A guarantee of perfect beer experience!
To guarantee the best beer quality at all times and thus contribute to your satisfaction, we confer the Certificate of excellent care for draught beer to pubs and restaurants that meet our strict criteria. Establishments which have been granted this certificate have shown they take a professional approach to caring for beer and provide a guarantee of its premium quality.

Storing beer in compliance with the relevant standards

Using the right dispensing gas

Maintaining cleanliness of glassware and beer channels

Using the correct method of pouring and serving beer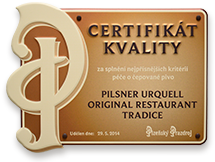 What does the certification process look like?
The certification process involves measurement and assessment of those key parameters which may significantly affect the quality and taste of draught beer.

An establishment submits a request for the certificate.

The measurements and assessment are performed.

The certificate is granted based on the measurement results.
List of establishments which have been granted the certificate of quality
| Business name | Address |
| --- | --- |
| $ BAR | SOKOLOVSKÁ 1397 TACHOV |
| 1007 – RESTAURACE SPOLEK | NÁDRAŽNÍ 143, 13 OSTRAVA - MORAVSKÁ OSTRAVA |
| 1133 – PIVNICE ŠATLAVA | FRÝDLANTSKÁ 154 FRÝDEK-MÍSTEK - MÍSTEK |
| A SPORT, ZÁBAVNÍ CENTRUM | MRŠTÍKOVA 1879, 42 HRADEC KRÁLOVÉ - NOVÝ HRADEC KRÁLOV |
| ALFA – RESTAURACE 2 | AMERICKÁ 663, 17 PLZEŇ - JIŽNÍ PŘEDMĚSTÍ |
| ALFA – SPOLEČENSKÝ SÁL | AMERICKÁ 663, 17 PLZEŇ - JIŽNÍ PŘEDMĚSTÍ |
| ALMARA PILSNER PUB & RESTAURANT | VELKÉ NÁMĚSTÍ 48 PRACHATICE I |
| ARCHIBALD RESTAURANT KAMPA | NA KAMPĚ 508, 15 PRAHA 1 - MALÁ STRANA |
| ASTRA G | BRODSKÁ 1838, 4 ŽĎÁR NAD SÁZAVOU 3 |
| B BAR 2 | SOKOLOVSKÁ 601, 26 KARVINÁ - NOVÉ MĚSTO |
| BAAROVKA | BAAROVA 2613, 25 PLZEŇ - JIŽNÍ PŘEDMĚSTÍ |
| BALATON | KAZNĚJOVSKÁ 1442, 49 PLZEŇ - BOLEVEC |
| BALOUNOVA RESTAURACE NA RŮŽKU | KOKOŘÍNSKÁ 204, 28 PRAHA 8 - ĎÁBLICE |
| BALOUNOVA RESTAURACE U BŘÍZY | ROZTYLSKÉ NÁMĚSTÍ 2960 PRAHA 4 - SPOŘILOV |
| BAR – HERNA PALMA 4 | NA ROZHLEDNĚ 840 CHRUDIM IV |
| BAR BLESK 2 | MARIE PUJMANOVÉ 1124, 28 HAVÍŘOV - ŠUMBARK |
| BAR CITY | KLATOVSKÁ TŘÍDA 2637, 160A PLZEŇ - JIŽNÍ PŘEDMĚSTÍ |
| BAR COBRA 1 | BUDOVATELSKÁ 488 KLÁŠTEREC NAD OHŘÍ |
| BAR HERNA TRIGA 777 | SÍDL. SVOBODY 3576, 77 PROSTĚJOV |
| BAR KINO | PŘIBICE 84 PŘIBICE |
| BAR KULEČNÍK 2 | ČESKOSLOVENSKÉ ARMÁDY 32 SUŠICE II |
| BAR NA POŠTĚ | ŠTĚPNICKÁ 1156 UHERSKÉ HRADIŠTĚ |
| BAR PALMIČKA | JANA ZAJÍCE 716 PARDUBICE - STUDÁNKA |
| BAR PAPINO | MORAVSKÁ 518, 22 HAVÍŘOV - ŠUMBARK |
Show next