A common legacy
Beer. A noble beverage which has been the golden thread of our modern history. Our predecessors left us the fruits of their work thanks to which we are now able to brew the world's best beers. It is our right to use this legacy. And it is our obligation to look after it so that we can pass down to our descendants unimpaired. That is the reason why sustainable development is a natural part of our business conduct.
Good neighbours
Breweries have always been the hearts of Czech towns and villages. We pay close attention to being good neighbours in all the communities where we operate. We monitor the impact of our business activities on the environment on a regular basis. We engage with our partners, who keep track of currents trends in the field of responsible business conduct.
National treasure
Developing the beer culture
It is hardly possible to picture the national Czech culture without beer. We care about our culture, which is why we provide regular training for the owners of pubs and restaurants, handing down our time-proven experience. We simple want consumers to be able to enjoy beer that has been perfectly looked after. Thousands of pub and restaurant owners per year complete our training sessions.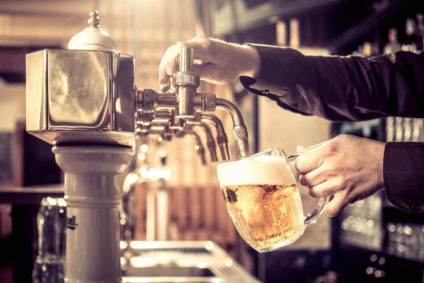 Clean water
Reducing water consumption
Life originated in water and there would be no life without it. Water is equally essential in the production of our beers. We carry out regular assessments of the risks related to the quality and availability of water used in producing our unique beer.
Since 2010, we have managed to reduce the volume of water used in beer production by 33 %. Thus, our water usage of 3.1 hl/hl proudly ranks us among the world's top companies.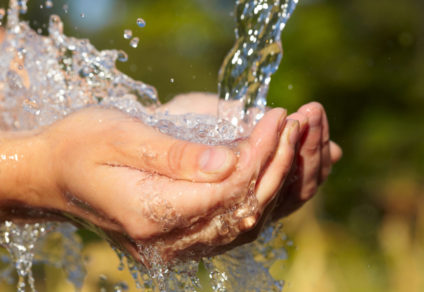 Clean air
Striving for cleaner air
All living things breathe and we want the world around us to breathe for more generations to come. We always strive to make sure that our breweries observe top environmental norms in compliance with internationally recognised standards. And this is what we also expect from our suppliers. We continuously strive to reduce our carbon footprint. Our current carbon efficiency value equals 7.56 kg CO2 /hl.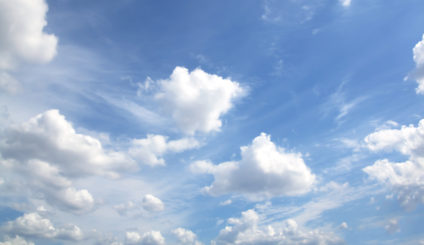 Clean nature
Striving for a cleaner environment
We don't only live today. We realize that everything we do today will be imprinted in our future. We carefully consider the ecological footprint our business conduct leaves behind. A total of 86% of our packaging materials is recyclable.
Almost 99.1 % of the waste produced by all of the Plzeňský Prazdroj's breweries and distribution centres can be recycled or reused.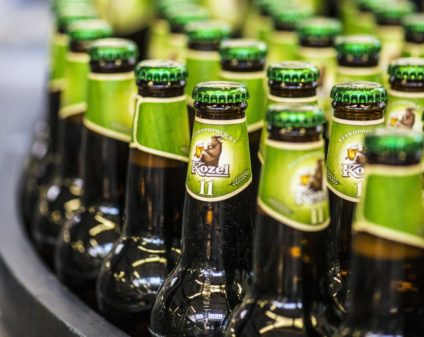 The origin of excellence
Best-quality ingredients
An excellent piece of work can only be created if every single component is absolutely perfect. At our breweries, we pay extraordinary attention to the selection of individual ingredients. On the domestic market, Plzeňský Prazdroj is the second largest buyer of malting barley and the largest buyer of the barley variants used in the production of beers which bear the 'České pivo' (Czech beer) protected geographical indication.
We also nurture long-term cooperation with our suppliers. The key principles of a partnership include correct relations, fairness and the long-term nature of our relationships.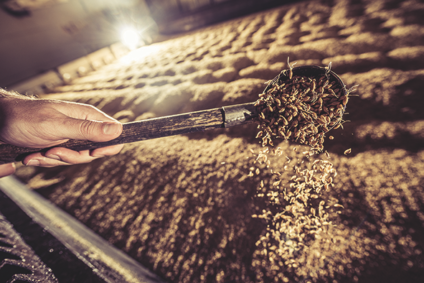 Report on lasting sustainable development
One of the things you can read in the current report for 2015 is that since 2010 we have managed to cut the amount of water consumed when brewing our beer by 33 %. Since 2011 the Radegast Brewery has been composting waste labels, meaning that over 1,000 tons of waste labels have been reused, saving more than 700 000 CZK. All labels and consumer packaging of Plzeňský Prazdroj beverages carry a message promoting responsible alcohol consumption. Plzeňský Prazdroj also develops programmes to support communities, such as Prazdroj for People, as well as preventive projects such as Respect 18 and Promile INFO.
Download Report 2016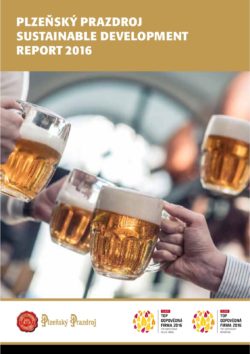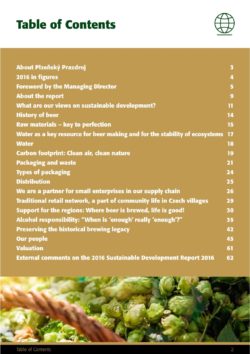 Cooperation with partners sharing our values
We are committed to upholding and advocating principles relating, amongst other things, to corporate management, working conditions, child labour, diversity and environmental protection. We also apply these principles in our relations with our supply chain partners. The high quality of the materials we are supplied with is a priority for us, and we monitor this carefully through the QMS programme (quality management system provided by the supplier). Our aim is to work with suppliers to forge a lasting partnership based on mutual trust and support.
Responsible sourcing principles in brief:
Open and transparent company management and administration
Healthy and safe working conditions
Ban on forced, involuntary child labour
Wages in accordance with the law
Respect for equality of opportunity, regardless of gender, origin, sexual orientation or religious and political beliefs
The right to associate in trade unions
Environmental protection
Protecting the waters at Ostrava Zoo

A total of 90 000 CZK from the Prazdroj for People programme will be used to build the "Fishery Gazebo", where visitors to the Zoo can find out about the threats faced by the oceans, seas and rivers around the world and in the Czech Republic, as well as advice on how to promote a more sustainable way of life.

Green energy for the Bezručova Chalet

The Bezručova Chalet again adorns the peak of Lysá hora in the Beskydy Mountains. We have contributed 300 000 CZK towards photovoltaic panels which will lessen its energy dependency on electricity suppliers and reduce its energy footprint.

Prazdroj supports regional heritage

Rural development, the restoration of small monuments of local importance, residents' respect for the place in which they live, and support for neighbourly unity. These are the aims of the Via Foundation – Cultural Heritage Fund programme, which Plzeňský Prazdroj has decided to support together with consumer cooperatives from the COOP group, with a donation of 215 000 CZK.