Sherpas Head for Landek. The Race is Saved.
28.7.2011
Radegast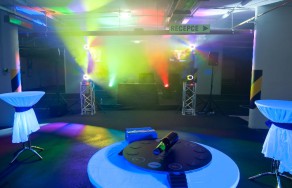 The goal of each team will be to deliver the beer keg to Landek Park within the shortest possible time. Each team that makes it within the specified time limit will get 60 beers. The fastest team will share 240 beers. However, victory is not what matters most here. "Those who want to experience something unique and special with their friends participate in the Sherpa Race. Actually, everyone who makes it all the way to the park is a winner," stated Marek Málek, manager of Radegast beer, regarding the most important motivation for competing in the race.
The first–ever Ostrava race was in jeopardy when the owner of the Ema slag heap released to the public studies describing health risks connected to the property. "We immediately started to look for an alternative solution, and we are glad to be able to save the race in such a short time. We are grateful to the Dolní Oblast Vítkovice Association for their help in determining an alternate route. We believe that the hike to the summit of Landek will be a unique experience for all participants," added Marek Málek in describing the challenges of the race–preparation process.
Members of Havířov Hockey Team confirmed their participation as well. They take up several starting spots and, thus, will meet in a team championship. The race will start from Silesian Ostrava Castle at 11 a.m. sharp and, according to plan, the winners will be announced at around 5 p.m. in Landek Park.
The Radegast Sherpa race started in the Beskydy mountain range in 2009 and since then have taken place annually. In 2010, this popular race spread to Olomouc and Zlín. Ostrava was added this year. A total of 500 brave competitors will take part this year.
Notes for editors:
Radegast beer brewery, one of the most modern beer breweries in Czech Republic, has produced beer since 1970.
Radegast brewery has been a member of the biggest Czech beer brewing group, Plzeňský Prazdroj, Inc., since 1999.
It produces more than 2 million hectolitres of beer a year and employs about 250 people.
The brewery produces "classic Czech lager" and it is also a maker of a high–quality malt, which is produced in its own on–site malthouse.
In 2008, the brewery produced its 10 billionth beer.
With total sales of nearly 10 million hectolitres during the 2010 calendar year (including licensed productions abroad) and with exports to more than 50 countries worldwide, Plzeňský Prazdroj Inc. is the leading beer producer in the region and the biggest exporter of Czech beer.
Plzeňský Prazdroj Inc. is a member of SABMiller plc. Group. Pilsner Urquell is the international flagship brand of the SABMiller brand portfolio.
SABMiller plc. is one of the world's biggest beer brewing companies with beer brewing activities or distribution in more than 60 countries across six continents. SABMiller's brand group includes such important brands as Pilsner Urquell, Miller Genuine Draft, Grolsch, Peroni Nastro Azzurro and many other successful regional brands.
Contacts:
Organiser
Kateřina Ulrichová

GSM: +420 603 557 070

Plzeňský Prazdroj:
Jiří Mareček
Manager external communication
Phone: +420 724 617 219
Ostrava