Prazdroj starts trial run of PET bottling line
24.8.2011
Company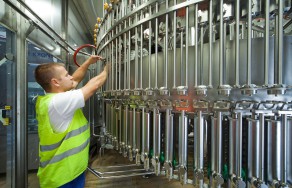 Last months saw more than thirty trucks bringing in components for the new line and Prazdroj's central packaging hall bustling with preparations for the installation. The so far unbuilt area of the complex was used for civil modifications and utility connections, including water and other process fluid distribution systems, beer piping and a number of technical sundries, the finishing touches to an investment of about 150 million Czech Crowns.
"We have our consumers at heart, and want to ensure we meet their needs. In response to their changing preferences and growing demand for convenient packaging, we are putting into operation a new plastic packaging line as part of our long–term investments in the development of our business. Our brewmasters make traditional Czech beers, and our goal is to sustainably offer consumers the highest quality of both our traditional products and the new packaging they come in. Our consumers deserve the best beer experience, and we are committed to delivering it to them," says Douglas Brodman, Plzeňský Prazdroj's CEO.
Plzeňský Prazdroj uses the increasingly popular PET packaging for its brands Primus, Klasik and Velkopopovický Kozel. The bottles protect the beer from light and oxygen.
Notes for editors:
With total sales of almost 9.9 million hectolitres in 2010 (including licensed production abroad) and exports to more than 50 countries around the world, Plzeňský Prazdroj is a major beer producer in the region and the largest exporter of Czech beer.
Plzeňský Prazdroj, a.s. is a member of the SABMiller plc. Pilsner Urquell is the international flagship of the SABMiller brand portfolio.
SABMiller plc is one of the world's largest brewers, with brewing interests or distribution agreements in over 60 countries across six continents.
Contact:
Jiří Mareček
Manager external communication
tel. +420 724 617 219
Plzeňský Prazdroj
Plzeň