Prazdroj is celebrating the 169th anniversary of the first batch of Pilsner Urquell beer with special tours and an organ concert
30.9.2011
Pilsner Urquell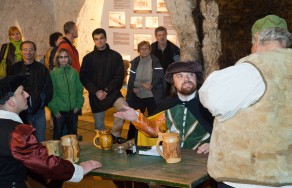 "On October 5th, 1842, in Burghers' Beer Brewery, Josef Groll brewed this unique, bottom-fermented lager for the first time, and it is our tradition to celebrate this memorable day in Czech beer brewing history. Pilsner Urquell quickly became a leading Czech brand and went on to lend its name to nearly two thirds of all beers across the whole world. This year, we are celebrating the 169th anniversary of Pilsner Urquell beer, and Plzeňský Prazdroj has prepared a rich cultural programme to mark the occasion," said Tomáš Raboch, manager of tourism and services of Plzeňský Prazdroj.
On October 1st and 2nd, the Plzeňský Prazdroj brewery will host nontraditional excursions enriched by live shows performed by actors in period costumes.
The scenes will bring to life the early history of Burghers' Beer Brewery. Visitors will have a chance to meet František Spalek, an important man who played a major role in the development of the brewery. There will also be performances of traditional dances from the second half of the 19th century. And in keeping with tradition, there will also be tastings of unfiltered, unpasteurized Pilsner Urquell lager for adult visitors, which will be served from oak barrels in lager cellars.
On Sunday, October 2nd, visitors will have an opportunity to take advantage of special tours on a delivery wagon. These tours will take visitors to parts of the Prazdroj and Gambrinus breweries that are not traditionally included in regular tours. In addition to functional facilities, tour takers will also see other sights that have contributed to the brewery's unique industrial heritage.
Part of the tour, of course, is tasting Pilsner Urquell beer in historic cellars for visitors 18 years and older. We recommend that visitors intending to take the tour make a reservation by calling (+420) 377 062 888.
Over the course of the weekend, the Beer Brewing Museum will present the history of coopery, past and present, in a special live exposition. Visitors will have a chance to chat with master coopers, and try their hand at the craft. They will also learn the true meaning of slang expressions such as "dědek", "amerikán", "kukna" or "kymovat." The presentation of the craft will be enriched by a tasting of a special beer brewed according to the original 16th century formula, as well as by acted scenes from the history of beer brewing. The Beer Brewing Museum thus offers a unique opportunity for visitors to experience mastery of the craft of coopery, which is all but unknown in modern Europe.
We recommend making a reservation by calling +420 724 618 357.
In both locations, the programme starts at 10:00 am and last until 6:00 pm.
A new feature of the programme is an organ concert in the Cathedral of St. Bartholomew, on October 4, at 7:00 pm. The free concert's programme includes classical works by J. S. Bach, G. F. Händel, J. Brahms, P. Franceschini, H. Purcell, M. Pšenička, and P. J. Vejvanovský played by Miroslava Pšenička on organ, and by Jiří and Zdeňek Šedivý on trumpets. With the presentation of this concert, Plzeňský Prazdroj continues the tradition of the burghers with the rights to brew beer, who got together on October 4, 1842, the eve of brewing the first batch of Pilsner Urquell beer, and kept this tradition going for many, many years.
For more information please visit www.prazdrojvisit.cz
Notes for editors:

With total sales of 9.9 million hectoliters in the 2010 calendar year (including its licensed foreign production) and with exports to more than 50 countries around the world, Plzeňský Prazdroj is the foremost producer of beer in the region and the biggest exporter of Czech Beer.
Plzeňský Prazdroj, a. s., is a member of SABMiller plc. Pilsner Urquell is the international flagship of SABMiller's portfolio of brands.
SABMiller plc. is one of the world's biggest beer brewing companies with beer brewing activities or distribution in more than 60 countries across six continents. SABMiller brands include important brands like Pilsner Urquell, Miller Genuine Draft, Grolsch, Peroni Nastro Azzurro, and many other successful regional brands.
Contact:
Jiří Mareček
Manager external communication
+420 724 617 219
Plzeň