Bishop of Plzeň bestowed his traditional blessings upon the Easter batch of Pilsner Urquell
20.2.2012
Pilsner Urquell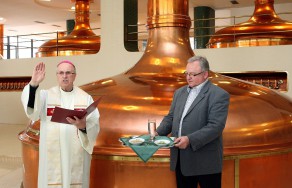 "The first batch was traditionally given a blessing, and Pilsner Urquell lager was no exception. Historically, first blessing was bestowed upon it on October 5, 1842. I am very happy that Plzeňský Prazdroj does not forget about this very nice tradition, and I hope that the Easter beer will be successful not only in Vatican," František Radkovský, Bishop of Plzeň said.
The production of the Easter batch together with description of the famous Plzeň lager will be preserved on a commemorative Brewing Certificate signed by Václav Berka, Brew Master and by Bishop Radkovský. The Brewing Certificate will be sent together with the shipment of the beer from the Easter batch to Vatican.
"Since the beginning of the legend called Pilsner Urquell, we are meticulous about preserving the original brewing recipe. Nevertheless, this beer is going to be exceptional. It will be brewed from blessed ingredients, and that is a big honor for us. Because our brand, Pilsner Urquell, has a rich and long tradition, we would like to make it a part of this important Christian event, and we would like to send it as blessed to the church officials and pilgrims alike in Vatican every year," Václav Berka, Senior Marketing Brew Master of Plzeňský Prazdroj explained.
Blessing of the Easter batch takes place symbolically at the same time every year, at the beginning of the fasting period before Easter, the most important of Christian celebrations. The five–week period corresponds exactly with the requirement of the traditional recipe by the first Pilsner Urquell beer brew master, Josef Groll.
For more information contact:
Vladimír Jurina, Plzeňský Prazdroj, phone: +420 724 617 886
Notes for editors:

With its total sale of nearly 10 millions of hectolitres during the calendar year of 2011 (including licenced productions abroad) and with its export to more than 50 countries worldwide, Plzeňský Prazdroj Inc. is the preeminent beer producer in the region and the biggest exporter of the Czech beer.
Plzeňský Prazdroj Inc. is the member of SABMiller plc. group. Pilsner Urquell is the international flagship brand of the SABMiller brand portfolio.
SABMiller plc. is one of the world's biggest beer brewing companies with beer brewing activities or distribution in more than 60 countries across six continents. SABMiller portfolio includes important international Brands such as Grolsch, Miller Genuine Draft, Peroni Nastro Azzurro, and Pilsner Urquell, as well as almost 200 successful regional and national brands
Plzeň