Blessed Batch of Pilsner Urquell Beer Is On Its Way To Vatican
26.3.2012
Pilsner Urquell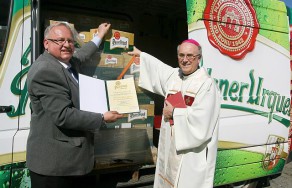 This morning, František Radkovský, Bishop of Pilsen, and Václav Berka, Senior Marketing Master–brewer, ceremonially sent off the batch of blessed Pilsner Urquell beer from the premisses of Pilsner Urquell brewery. The beer on its way to Vatican is accompanied by the Certificate of Origin and the original beer chalice especially made as an Easter gift for Pope Benedict XVI.
"Plzeň lager Pilsner Urquell is an exceptional beer for special occasions, and therefore, today, we are sending it in its blessed form as a gift to contribute to a celebration of Easter to Vatican. Plzeň beer could be found on a table at The Holly See occasionally before, and now, we would like to build a tradition of Easter gifts of blessed lager from Pilsen. Moreover, this year, we also give the original beer chalice to Pope Benedict XVI," Václav Berka, Senior Marketing Master–brewer of Pilsner Urquell brand explained.
The original beer chalice was made by Lars Kemper, designer of the renowned glass making company Lasvit in Nový Bor. The production of the chalice of 0.3l content took 20 days. Inspired by the Pilsner Urquell lager itself, the designer combined the long term tradition with modern design. The chalice is hand ground from sodium–potassium–chloride crystal. To achieve sharp geometrical lines designed by Lars Kemper, the glass–makers had to grind the whole surface of the chalice including the stem and the mount.
"I am happy we had a chance to contribute to a respectable representation of the beer from our town at the celebration of Easter in Vatican again this year. I heard many positive things about last year's Easter present from Pilsen. So I am glad that Plzeňský Prazdroj continues with this nice tradition,"František Radkovský, Bishop of Pilsen said.
The blessed beer together with the chalice will be handed to Cardinal Tarcisio Bertone State Secretary of The Holly See directly in Castle of Apostles by JUDr. Pavel Vošalík, Czech Ambassador to The Holy See, and Jan Šolta, Senior Manager of Pilsner Urquell brand.
Notes for editors:
With its total sale of nearly 9.9 million hectolitres during the calendar year of 2011 (including licenced productions abroad) and with its export to more than 50 countries worldwide, Plzeňský Prazdroj Inc. is the preeminent beer producer in the region and the biggest exporter of the Czech beer.
Plzeňský Prazdroj Inc. is a member of SABMiller plc. group. Pilsner Urquell is the international flagship brand of the SABMiller brand portfolio.
SABMiller plc. is one of the world's biggest beer brewing companies with beer brewing activities or distribution in more than 60 countries across six continents. SABMiller portfolio includes important international Brands such as Grolsch, Miller Genuine Draft, Peroni Nastro Azzurro, and Pilsner Urquell, as well as almost 200 successful regional and national brands.

Contact:
Jiří Mareček
Manager external communication
Phone: +420 724 617 219
Email:
Plzeň