Prazdroj (Source) Of Talents Will Support New Bands, Dancers, and Performers
2.4.2012
Pilsner Urquell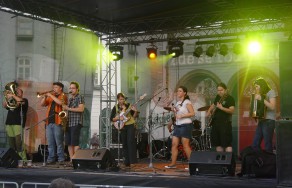 Those interested in taking part in PRAZDROJ OF TALENTS competition living not only in the greater Pilsen area but all around the Czech Republic may submit their applications in the categories of "Music Band," "Dance Group," and "Free Style Performance" with the theme of The Right Treasure / The True Taste of Friendship from April 1 to May 31, 2012 at the official website of Pilsner Fest. The expert jury will first decide on those who will advance to the next round, and then the public will select the winners in each category.
MUSIC BAND Category

In category Music Band, the jury will select 14 appropriately applied contestants plus two alternates. Their music recordings and photographs will be available for viewing and listening at the Pilsner Fest website beginning on June 14, 2012. These bands will meet in duels as warm–up bands of traditional concert cycles of summer at Prazdroj Festival every Thursday from June 28 to August 9, 2012. The band with the highest number of coupons received from the public and votes placed via website at the time of the concert will be determined as the winner of the duel.
Seven winners will advance to finals that will take place on the stage of Europe 2, Boulevard during Pilsner Fest on Saturday, September 1. The winner of the category will be selected by public vote at the Pilsner Fest website from August 17 to August 28, and via SMS text at the brewery. The winner will receive an engagement at Pilsner Fest 2013 as a grand prize, and a free year's supply of Pilsner Urquell and Gambrinus beer.
"I must admit, I am already very excited and full of expectations. The young and unknown amateur bands and singers who compete at Prazdroj of Talents–type of competitions can bring many surprises. Last year brought interesting discoveries and if the level of this year contestants is comparable to that of the last year's, we are up for a quite a treat," Pavel Anděl, Music Editor of the festival and the chair of the jury said about the competition.
DANCE GROUP AND FREE STYLE PERFORMANCE Categories

Dance Group and Free Style Performance categories are Prazdroj of Talents novelties this year. The expert jury will select 14 advancing contestants plus two alternates for each category by June 14, 2012. Their recordings and photographs will be placed on the Pilsner Fest website from July 1 to August 28, 2012 for public voting. Advancing dancers and performers will be performing live during Pilsner Fest on Saturday, September 1, 2012. This will be the last chance to place a vote via SMS text. Winners of both categories will sign a contract to perform at various events for honourarium, and each winner will receive a free year's supply of Pilsner Urquell and Gambrinus beer.
This year, next to professional musicians, Pilsner Fest will present the winner of last year's Prazdroj of Talents competition, music group Grande Tete from Mariánské Lázně. The festival is the biggest cultural event of its kind, and Pilsen beer lovers may enjoy not only an excellent music program but also a rich accompanying program full of surprises and record–breaking events right at the courtyard of the brewery and its immediate surroundings every year.
For more information contact:
Vladimír Jurina, Plzeňský Prazdroj, phone: +420 724 617 886
Note for editors:
Plzeňský Prazdroj Inc and Town of Plzeň are natural partners in the areas of marketing cooperation and tourism. Based on Declaration of Cooperation, Plzeňský Prazdroj Inc. supports many cultural events in Plzeň, and Town of Plzeň is a traditional partner of Pilsner Fest.
With its total sale of nearly 9.9 million of hectolitres during the calendar year of 2011 (including licenced productions abroad) and with its export to more than 50 countries worldwide, Plzeňský Prazdroj Inc. is the preeminent beer producer in the region and the biggest exporter of the Czech beer.
Plzeňský Prazdroj Inc. is the member of SABMiller plc. group. Pilsner Urquell is the international flagship brand of the SABMiller brand portfolio.
SABMiller plc. is one of the world's biggest beer brewing companies with beer brewing activities or distribution in more than 60 countries across six continents. SABMiller portfolio includes important international Brands such as Grolsch, Miller Genuine Draft, Peroni Nastro Azzurro, and Pilsner Urquell, as well as almost 200 successful regional and national brands.
Plzeň