New Finance and IT Director at Plzensky Prazdroj
12.4.2012
Uncategorized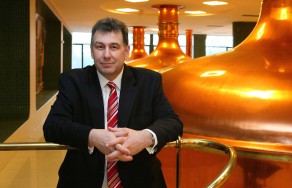 Andrew Bailey joined SABMiller in February 2005, working in SABMiller as European Regional Tax Manager. From March 2008, he worked as Finance Director in SABMiller Russia. Prior to joining the SABMiller group, he held a number of senior tax management jobs, most noticeably in Europe at Sony Corporation and PricewaterhouseCoopers.
Andrew Bailey comes from New Zealand. He achieved his academic education at the Auckland and Victoria universities, qualifying in taxation, as well as in accounting and commercial law. He is also a qualified Chartered Accountant.
Andrew Bailey replaced Mike Walsh, who was appointed as Finance Director in Foster, the SABMiller business in Australia.
Notes for editors:
With total sales over 9.9 million hectolitres in 2011 (including licensed production abroad) and exports to more than 50 countries around the world, Plzensky Prazdroj is a major beer producer in the region and the largest exporter of Czech beer.
Plzeňský Prazdroj, a.s. is a member of the SABMiller plc group. Pilsner Urquell is the international flagship of the SABMiller brand portfolio.
SABMiller plc is one of the world's largest brewers, with brewing interests or distribution agreements in over 60 countries across six continents. The SABMiller brand portfolio consists of international brands such as Pilsner Urquell, Miller Genuine Draft, Grolsch, Peroni Nastro Azzurro, as well as many other successful regional brands.
Contact:
Jiri Marecek
Plzensky Prazdroj
+420 724 617 219
Plzeň