Birell, the Most Popular Czech Nonalcoholic Beer, is Coming Out With the Novelty of Fruit Flavour
9.5.2012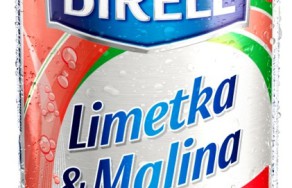 It is the fresh, fruity flavour that consumers ask for the most. One third of the respondents of TNS Aisa agency's March survey desired nonalcoholic beer with fruity flavours. On the other hand, on the Czech market more unusual flavours such as spicy, herbal, sweet, or even salty do not appeal to Czech consumers very much so far. Birell brand is answering the demands of the market by introducing Birell with lime and raspberry flavours. Besides the fruity flavour, the novelty offers to its consumers other attributes important for nonalcoholic beer as well. The respondents considered the following characteristics as important: the fact that it is a natural beverage (15%) and that it does not contain any chemical preservatives (11%) and artificial colouring (8%). And 7% of the respondents follow nutrition value guidelines.
"Our new Birell with lime and raspberry flavours is made by adding natural juices to finished Birell Light beer. The beverage thus retains all its popular characteristics as the most popular Czech nonalcoholic beer, and in addition it also offers a new, refreshing, fruity flavour. I am convinced that the new Birell will soon win the hearts of many new fans," Martina Kuncová, Birell Brand Manager said.
Birell Lime & Raspberry is great for quenching your thirst on the road, while playing sports, or during work meetings. It is introduced to the market in 0.5l can packaging.
Birell Lime & Raspberry contains no chemical preservatives or artificial colours, and its energetic value is only 30 calories per 100 ml, which is much less than that of sweet sodas.
The recommended retail price is 19,90 CZK (about 1.00 USD).
Birell Lime & Raspberry will be distributed to Žabka and Tesco Express market stores, to selected stores in the Billa market chain, and to selected gas stations and restaurants.
About the survey: The survey was conducted by TNS Aisa Agency. An online survey was conducted during the month of March with a sample of 580 beer fans. 70% of men and 30% of women between 18 and 65 years of age made up the survey.
Contact info for media:
Vladimír Jurina
Internal Company Relations and Communication Manager
Plzeňský Prazdroj Inc.
Phone: (+420) 724 617 886
E-mail:
Notes for editors:
Birell is the best–selling nonalcoholic beer in the Czech Republic. The classic beer taste of Birell is achieved thanks to a unique brewing technology based on the use of a special yeast that produces much less alcohol while preserving the rest of the taste–influencing components.
Nonalcoholic Birell is sold in three versions: Birell Light, Birell Semi Dark (since 2010) and Birell Lime & Raspberry (since 2012).
Nonalcoholic Birell is part of the Plzeňský Prazdroj Inc. portfolio. Plzeňský Prazdroj Inc is a member of SABMiller plc. group. With its total sales of nearly 9.9 million hectoliters during the calendar year of 2011 (including licensed productions abroad) and with its exports to more than 50 countries worldwide, Plzeňský Prazdroj Inc. is the preeminent beer producer in the region and the biggest exporter of Czech beer.
SABMiller plc. is one of the world's biggest beer brewing companies, with beer brewing activities or distribution in more than 60 countries across six continents. The SABMiller portfolio includes important international brands such as Grolsch, Miller Genuine Draft, Peroni Nastro Azzurro and Pilsner Urquell, as well as almost 200 other successful regional and national brands.
Praha