Plzeňský Prazdroj Will Utilise More Ecological Volvo Trucks
24.5.2012
Company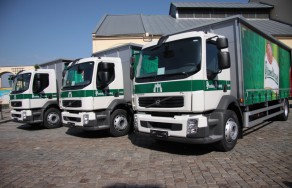 By the end of this May, Plzeňský Prazdroj will increase the fleet of its so called secondary distribution fleet* by 35 new Volvo FLH 18 trucks with beverage structures. The trucks will be used all around the Czech Republic. Each distribution centre will receive between one and four vehicles.
"Volvo FLH 18 trucks have higher tonnage and wider loading area compared to trucks currency used by Prazdroj. This will make distribution more effective especially outside of urban areas. The new trucks comply with EURO 5 emission standards and yet they make it possible to transport higher tonnage with higher MPG. The new model also stands out for its low operating cost guaranteed by the "Gold Contract" service agreement and Dynafleet System for optimal mileage," said Robert Grozdanovski, Volvo Truck Czech llc. General Manager.
Tarpaulins for the new trucks will be adorned mostly with Pilsner Urquell logos, however in some regions of the country, these trucks will feature the branding of Velkopopovický Kozel, and a number Moravian distribution centres will use the Radegast logo.
"By utilising the new trucks, we will also achieve a decrease in environmental pollution. Since the trucks support up to 18 pallets, we will be able to decrease the number of dispatches, resulting in fuel conservation and a decrease of pollution of living environment. Next to water and electricity, this is another part of our sustainable development strategy," said Drahomíra Mandíková, Director of Corporate Relations and Communications of Plzeňský Prazdroj.
The Volvo Trucks llc. entry won the tender, the requirements of which included technical specification of the vehicle, the best overall solution, and the ecological aspects of a vehicle's operation.
*the end delivery of beer from distribution centres to individual customers and clients
Notes for editors – Plzeňský Prazdroj
With total sales of nearly 9.9 million of hectolitres during the calendar year of 2011 (including licensed production abroad) and with exports to more than 50 countries worldwide, Plzeňský Prazdroj Inc. is the preeminent beer producer in the region and the biggest exporter of Czech beer.
Plzeňský Prazdroj Inc. is a member of SABMiller plc. group. Pilsner Urquell is the international flagship brand of the SABMiller brand portfolio.
SABMiller plc. is one of the world's biggest beer brewing companies with beer brewing activities or distribution in more than 60 countries across six continents. The SABMiller portfolio includes important international Brands such as Grolsch, Miller Genuine Draft, Peroni Nastro Azzurro, and Pilsner Urquell, as well as almost 200 successful regional and national brands.
Notes for editors – Volvo Truck Czech llc.
Volvo Trucks offers complete transportation solution for its customers.
The company offers a full range of medium and heavy trucks and has a global network of 2,300 service centres in over 140 countries. Volvo Trucks has manufacturing facilities in 16 countries.
In 2011, the company delivered more than 115,000 trucks worldwide. Volvo Trucks is part of Volvo Group, one of the world's leading suppliers of trucks, buses, construction equipment, drive systems for ships and industrial applications, and aerospace parts.
Volvo Group also offers financial and IT services.
Contact:
Jiří Mareček
Plzeňský Prazdroj
+420 724 617 219
Klára Rylichová
Volvo Truck Czech llc.
+420 724 483 211
Plzeň