Tomáš Cikán, a Student at the University Of Art And Industry, Took a Chance With the Creation of a New Packaging Design For Pilsner Urquell
19.7.2012
Pilsner Urquell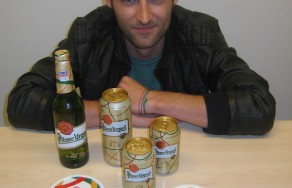 Tomáš's entry of ceramic coasters was so successful that out of the simple internal competition of the hosting University, initiated by Pilsner Urquell, came an offer for this talented student to create the whole Olympic collection for the Pilsner Urquell brand.
Tomáš Cikán has interwoven a few of his personal interests into his entry. He likes sports, his grandfather was a sports columnist and a big fan of athletics, and, in his library, he has many books about past Olympic games. His father is headmaster of a printing school, where Tomáš met his first inspiration, Filip Daneš, and decided to pursue graphic design. "I am very pleased by the fact that  Pilsner Urquell chose my entry. Many much more experienced designers would love to see their work on so much of the famous Czech brand's packaging material. When someone in our home mentioned Pilsner Urquell, everyone first thought of the beer. I am interested in Pilsner Urquell as one of the few worldwide successful Czech brands. However, I must admit, I very much enjoy the beer as well," Tomáš Cikán confessed.
Pilsner Urquell's new Olympic collection includes bottles, cans, plastic wrapping, paper boxes, and beer cartons including five different concepts of ceramic coasters cleverly presented by the author in the form of Olympic Rings. The work on the initial Pilsner Urquell Olympic collection took nearly three months to complete.
The main motif of the designed products of Pilsner Urquell is comprised of parts of the Olympic Rings of various widths, randomly overlaid across each other. "Generally, I enjoy working with abstract themes because it offers freedom of expression. Design is art that mainly serves its purpose, and I want for people to see all that movement, excitement, and victory behind the composition of the lines, and perhaps even to give a thought to the core value of the Olympic message," the author of the collection clarifies the creative process behind his nearly ten–years long experience with graphic design.
Pilsner Urquell, the general partner of the Czech Olympic Team, is a longtime supporter of true Olympic values. These are remembered in the symbolic Olympic Contract that Pilsner Urquell signed not too long ago, encouraging its fans to join it with their signatures, to show their support for these immensely important values. For each signature on the contract, the company will donate one Czech crown (CZK) to the Dana and Emil Zátopek Fund. Support for young and talented personalities definitely belongs among these values. You can join the movement at www.spravnehodnoty.cz.
Tomáš Cikán (1985)

Since 2004, for three years, he was an instructor of practical training at Printing Vocational School in Prague. After that, he worked as a graphic designer at Ogilvy CID, where he learned about corporate design. Mr. Cikán was also Artistic Director of "Metropole" magazine, worked on his own projects as a freelance designer, and since 2007, he is a student at the Studio of Graphic Design and Visual Communication at the University of Art and Industry in Prague.
For more information contact:
Vladimír Jurina
Plzeňský Prazdroj
p: +420 420 724 617 886
Notes for editors:
With a total sale of nearly 9.9 million hectolitres during 2011 (including licensed productions abroad) and with exports to more than 50 countries worldwide, Plzeňský Prazdroj Inc. is the preeminent beer producer in the region and the biggest exporter of Czech beer.
Plzeňský Prazdroj Inc. is a member of SABMiller plc. group. Pilsner Urquell is the international flagship brand of the SABMiller brand portfolio.
SABMiller plc. is one of the world's biggest beer brewing companies, with beer brewing activities or distribution in more than 60 countries across six continents. The SABMiller portfolio includes important international brands such as Grolsch, Miller Genuine Draft, Peroni Nastro Azzurro, and Pilsner Urquell, as well as almost 200 successful regional and national brands.
Plzeň