Radegast Day Event Organisers Are Preparing A More Spacious Area For Visitors
30.7.2012
Radegast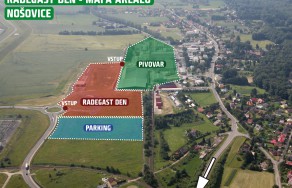 "Right after the end of the 9th year of Radegast Day, which was visited by more than 25,000 people, we knew that we were near the maximum capacity of the used space, and so we immediately started to work on securing a bigger area. I am glad that this year, we can invite Radegast fans to a more spacious area, and that we were able to manage everything successfully. Considering that bands such as Chinaski, No Name, Mandrage, and others will be playing in Nošovice, it is a really good thing that we do have a big area available, where everyone can have a good time," Karel Kraus, Marketing Manager of Plzeňský Prazdroj said.
The new site will offer several advantages to the visitors of one of the biggest events in the Moravia-Silesia region. Transfers between individual stages are going to be much easier, as well as access from train and bus stations. There will be approximately one quarter more draught stations. Karel Kraus confirms that the new space takes the event even closer to the brewery itself: "The main stage will be inside the area of the brewery. From there, people might see the beer tanks or the tasting room above the brewing house, and beyond that, the picturesque peaks of the Beskydy Mountains. I am convinced that this will add to the great atmosphere that traditionally rules this popular feast of Radegast beer."
Next to the main stage, filled with popular stars, visitors of Radegast Day may expect a rich accompanying programme, including manly duels and tough competitions. Nošovice brewmasters will start preparing the traditional unfiltered bitter lager well in advance. Visitors' tours of the brewery will be also available.
Notes for editors:
Radegast, one of the most modern Czech breweries, has been producing beer since 1970.
The Radegast brewery has been a part of the Plzeňský Prazdroj company since 1999.
With a total sale of nearly 9.9 million hectolitres during the year 2011 (including licenced productions abroad), and exporting to more than 50 countries worldwide, Plzeňský Prazdroj Inc. is the preeminent beer producer in the region and the biggest exporter of Czech beer.
Plzeňský Prazdroj Inc. is a member of the SABMiller plc. group. Pilsner Urquell is the international flagship brand of the SABMiller brand portfolio.
SABMiller plc. is one of the world's biggest beer brewing companies, with beer brewing activities or distribution in more than 60 countries across six continents. The SABMiller portfolio includes such important international brand as Grolsch, Miller Genuine Draft, Peroni Nastro Azzurro, and Pilsner Urquell, as well as nearly 200 successful regional and national brands.
Contact:
Jiří Mareček
Manager external communicaiton
Phone: +420 724 617 219
Nošovice