Chinaski Band Supervised Making of Beer for "Radegast Day"
22.8.2012
Radegast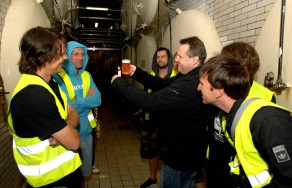 Chinaski band members went to the lager cellar together with the head brew–master and the master of the cellar. Together, they conducted the first review of the lager after it was laid down for maturing in the cellar. "It was very interesting to see beer that will be maturing for a few more weeks. We have tasted fully matured Radegast directly in the cellar as well, and it is clear that the visitors of the Radegast Day festival have something good to look forward to. I hope that our concert too will contribute to the fun atmosphere," Chinaski band lead singer Michal Malátný said.
Chinaski will play at Radegast Day on Saturday, September 15, from 9:45 p.m. Before them, there will be many other bands on the main stage such as No Name, Wohnout, Charlie Straight, and Mandrage. The programme in Nošovice starts at 11:00 a.m. Other entertainment will include manly contests, the finals of the consumer contest for 300,000 CZK (about 15,000 USD), and visitors' tours of the brewery.
The 10th annual Radegast Day celebration will take place for the first time on the newly developed area next to the brewery, and the main stage will be directly inside the brewery. The new space has a much higher capacity and offers a much higher level of comfort to visitors while moving between the stages, additional parking, and much more. There will be many more refreshment stations and about one fourth more beer stands.
Notes for editors:
One of the most modern of Czech breweries, Radegast has produced beer since 1970.
Radegast brewery has been a part of Plzeňský Prazdroj co. since 1999.
With its total sale of nearly 9.9 million hectolitres during the calendar year of 2011 (including its licensed productions abroad) and with its export to more than 50 countries worldwide, Plzeňský Prazdroj Inc. is the preeminent beer producer in the region and the biggest exporter of Czech beer.
Plzeňský Prazdroj Inc. is the member of SABMiller plc. group. Pilsner Urquell is the international flagship brand of the SABMiller brand portfolio.
SABMiller plc. is one of the world's biggest beer brewing companies, with beer-brewing activities or distribution in more than 60 countries across six continents. SABMiller portfolio includes important international Brands such as Grolsch, Miller Genuine Draft, Peroni Nastro Azzurro, and Pilsner Urquell, as well as almost 200 successful  regional and national brands.
Contact:
Jiří Mareček
Press contact
Phone: +420 724 617 219
Nošovice