Nošovice to experience biggest Radegast day in its history
11.9.2012
Radegast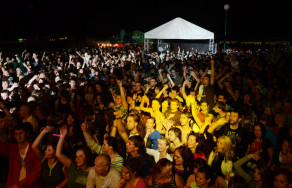 The new location of the Radegast Day event has made it possible for organisers to secure a much richer programme and improve the safety and comfort of all visitors. "The number of visitors is higher every year, and we are closing in on the 30,000 people mark. That places Radegast Day among the biggest events in the region. Therefore, we need a much bigger area for the event this year. There will be more beer stations, more parking spaces, and the movement between the stages will be much more comfortable for all visitors," said Martin Troup, Radegast brand manager.
The programme will start at 11:00 a.m. The band Mandrage will play at 12:30 p.m. The first big star, No Name from Slovakia, will start its show at 3:00 p.m. Then the stage will belong to Charlie Straight, VSPH, Děda Mládek Illegal Band, Wohnout, and Chinaski, who will play their hits at 9:45 p.m.
People come to Radegast Day to enjoy the bitter, unfiltered Radegast lager that is brewed especially for this day by Nošovice brew masters. As usual, there will be no shortage of it this year, as Ivo Kaňák, Radegast brewery manager, confirms: "The unfiltered lager is maturing in our cellars. I am convinced that visitors of Radegast Day will definitely enjoy it this year as much as before. Last year, they consumed 40,900 servings of beer. We have brewed more than that so there is no danger of a beer shortage. Next to the unfiltered lager, there will be other beers on draft such as Radegast Premium, Original, and non–alcoholic Birell for designated drivers."
People will have a chance to learn more about the beer and its proper drafting not only during the visitors' tour of the brewery, but also right on the one of the stages. There, under the supervision of the marketing brew master, lessons on proper beer drafting and care will take place.
High–adrenaline fun cannot be absent at the event. Events called "Get Out of the Gorge" and "Challenge the Force of Nature" keep no one wondering about their tough and manly objectives. The winner of the Radegast Day contest "Get Ready for Service" will not forget the moment he or she takes home 300,000 CZK (about 15,000 USD).
A special train from Ostrava will leave the main station for Nošovice at 9:00 a.m. The bus and train transportation from Frýdek–Místek is secured for the whole day. Schedules and details about the programme are available at www.radegast.cz.
Notes for editors:
One of the most modern Czech breweries, Radegast has produced beer since 1970.
Radegast brewery has been a part of Plzeňský Prazdroj company since 1999.
With total sales of nearly 9.9 million of hectolitres during the calendar year of 2011 (including licensed production abroad) and with exports to more than 50 countries worldwide, Plzeňský Prazdroj Inc. is the preeminent beer producer in the region and the biggest exporter of Czech beer.
Plzeňský Prazdroj Inc. is a member of SABMiller plc. group. Pilsner Urquell is the international flagship brand of the SABMiller brand portfolio.
SABMiller plc. is one of the world's biggest beer brewing companies, with beer brewing activities or distribution in more than 60 countries across six continents. SABMiller portfolio includes important international brands such as Grolsch, Miller Genuine Draft, Peroni Nastro Azzurro and Pilsner Urquell, as well as almost 200 successful regional and national brands.
Contact:
Jiří Mareček
Press contact
Phone: +420 724 617 219
Nošovice