More than 10,000 people visited the Radegast Brewery this year already
26.9.2012
Radegast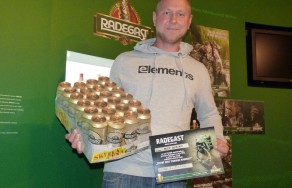 Petr Burian, a restaurant owner from Třinec was truly surprised. "I took off for a tour of the brewery with my friends and never even thought that I could be the 10,000th visitor. I am very happy and will share the beer with the others."
In Nošovice, they hope that this year will establish a new record in the number of visitors. At the beginning of the season, they reopened an improved tour that allows visitors to peek into the lager cellar and informs visitors in entertaining ways about interesting brewing activities at each stop. Since this past summer, Radegast brewery is also part of the "Techno Trail" that covers the most popular technological points of interest in the Moravia–Silesia region. Thanks to this project, the popular event "Fun Summer" made it to Nošovice this year. Moreover, the long partnership with "the Valach Kingdom" proved to be fruitful since everything there bears sign of Radegast God this year.
The tours of the brewery are ever more and more popular abroad too. Martina Sikorová, Director of the Visitors Center of Nošovice brewery, confirms: "This year the interest is up, especially in Poland. Many people also come from Slovakia and Austria. They come as individuals, as well as in groups on specialized trips arranged through travel agencies. We have welcomed visitors form 10 countries this year so far."
Notes for editors:
One of the most modern Czech breweries, Radegast produces beer since 1970.
The Radegast brewery is a part of Plzeňský Prazdroj comp. since 1999.
With its total sale of nearly 9.9 million of hectoliters during the calendar year of 2011 (including licensed productions abroad) and with its export to more than 50 countries worldwide, Plzeňský Prazdroj Inc. is the preeminent beer producer in the region and the biggest exporter of the Czech beer.
Plzeňský Prazdroj Inc. is the member of SABMiller plc. Group. Pilsner Urquell is the international flagship brand of the SABMiller brand portfolio
SABMiller plc. is one of the world's biggest beer brewing companies with beer brewing activities or distribution in more than 60 countries across six continents. SABMiller portfolio includes important international Brands such as Grolsch, Miller Genuine Draft, Peroni Nastro Azzurro, and Pilsner Urquell, as well as almost 200 successful regional and national brands.
Contact:
Jiří Mareček
Press contact
Phone: +420 724 617 219
Nošovice