New Semi–Dark Beer From Radegast Is Bitter Just Right
29.11.2012
Radegast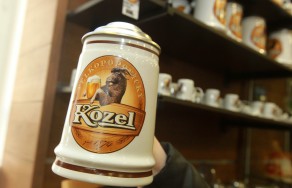 Radegast Gloomy Bitter continues the tradition of the successful, limited edition Extra Bitter lager that the brewery has already brewed twice. "The good taste and excellent bitterness are attributes that Radegast fans expect from their beer. The semi–dark lager fulfils these requirements to the fullest; moreover, it is has a pleasant malt taste and rich amber colour. Gloomy Bitter is definitely one of the bitterest semi-dark beers in our country," said Ivo Kaňák, manager of Radegast brewery.
Radegast Gloomy Bitter is being introduced to the market by the brewery as a seasonal product. Pub keepers will have it on draught across the entire Moravia region. The list of participating pubs is available at www.radegast.cz. The bottled beer will also be available in stores.
The semi–dark lager will be launched in a nontraditional way at several places in Moravia. In selected pubs, members of extra league teams from Vítkovice, Třinec, and Zlín, and the premiere league team from Olomouc will serve the beer to fans for the first time. The first event will take place in Ostrava pub Assen on Wednesday, December 5th, at 6:00 pm, when Michal Barinka, Ondřej Roman, and Roman Szturc will start draughting the beer.
Notes for editors:
One of the most modern Czech breweries, Radegast has been producing beer since 1970.
Radegast brewery has been a part of the Plzeňský Prazdroj comp. since 1999.
With total sales of nearly 9.9 million hectolitres during the calendar year of 2011 (including licensed production abroad) and with exports to more than 50 countries worldwide, Plzeňský Prazdroj Inc. is the preeminent beer producer in the region and the biggest exporter of Czech beer.
Plzeňský Prazdroj Inc. is a member of SABMiller plc. group. Pilsner Urquell is the international flagship brand of the SABMiller brand portfolio
SABMiller plc. is one of the world's biggest beer brewing companies with beer brewing activities or distribution in more than 60 countries across six continents. The SABMiller portfolio includes important international Brands such as Grolsch, Miller Genuine Draft, Peroni Nastro Azzurro, and Pilsner Urquell, as well as almost 200 successful  regional and national brands.
Contact:
Jiří Mareček
Press contact
Phone: +420 724 617 219
Nošovice