Plzeňský Prazdroj Has a New Technical Director
13.12.2012
Uncategorized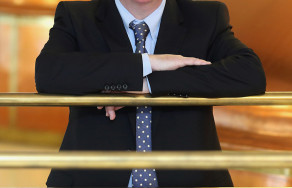 Before joining SABMiller, Diarmaid worked as a project manager of a food engineering team in the PM Group Company in Ireland and Great Britain. He started his career in the Bowen Water Technology Company in Ireland. Then he spent four years as a lecturer at University College Dublin.
Diarmaid De Búrca was born in Dublin. He got his education in Gaelic*. He holds a M.Eng from University College Dublin, Ireland, and an MBA from French institute INSEAD. His hobbies include jogging, meeting with friends, and travelling. Mr. Búrca speaks French, English and Gaelic, and thanks to his stay in South Africa, he is partially able to communicate in Afrikaans. He and his wife would very much like to learn some Czech during their stay in the country.
Mr. Búrca is replacing Julian Patton, who served in the position of technical director since May 2009.
* An Irish national language with Celtic roots
Notes for editors

With total sales of nearly 9.9 million of hectolitres during the calendar year of 2011 (including licensed production abroad) and with exports to more than 50 countries worldwide, Plzeňský Prazdroj Inc. is the preeminent beer producer in the region and the biggest exporter of Czech beer.
Plzeňský Prazdroj Inc. is a member of the SABMiller plc. group. Pilsner Urquell is the international flagship brand of the SABMiller brand portfolio
SABMiller plc. is one of the world's biggest beer brewing companies, with beer brewing activities or distribution in more than 60 countries across six continents. SABMiller portfolio includes important international Brands such as Grolsch, Miller Genuine Draft, Peroni Nastro Azzurro, and Pilsner Urquell, as well as almost 200 successful regional and national brands.

Contact:
Jiří Mareček
Plzeňský Prazdroj
+420 724 617 219
Plzeň