Bishop of Plzeň Traditionally Blessed the Easter Batch of Pilsner Urquell
11.2.2013
Pilsner Urquell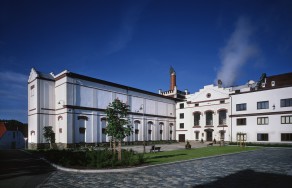 Traditional blessing of the Pilsen Urquell beer that is being prepared by Pilsen brew masters for Easter is now a tradition. Therefore, today, Bishop of Pilsen Monsignor František Radkovský first blessed the Pilsen malt, Zatec hops, and Pilsen water – the raw materials that have been used to make Pilsen Urquell for more than 170 years – in the brewery's brewing house. After that, assisted by master brewer Václav Berka, he blessed this year's Easter batch of the beer.
Even this year, a symbolic 2013 bottles of the Easter batch will be sent to The Holly See as a gift from Pilsen brewery and citizens of Pilsen to contribute to the celebrations and for the official events that will take place during Easter. That is why the permanent attaché in the Czech Republic, Giuseppe Leanza, for the first time participated in the event in person.
"Pilsen lager Pilsner Urquell has been regularly sent to the Vatican since the end of the 19th century. We resurrected this tradition three years ago, and now we send the beer to The Holly See every Easter. Pilsner Urquell that will be sent to Pope Benedict the XVI at the end of March will be the same as the one enjoyed by his predecessor Leo the XIII more than 110 years ago. The recipe and the used materials were not changed for 170 years," Pilsen brew master Václav Berka said after the blessing.
The blessed and certified batch of the Pilsner Urquell will sent for the brewery one week before Easter. A unique gift will be sent to Rome together with the beer – an art object that is being made at a secret location.
More photo galleries at:
https://www.prazdroj.cz/cz/media/fotobanka/udalosti-v-prazdroji/plzensky-biskup-pozehnal-dle-tradice-velikonocni-varku-piva-pilsner-urquell
For more information contact:
Vladimír Jurina
Plzeňský Prazdrojzz
phone: + 420 724 617 886
Notes for editors:

With its total sale of nearly 9.9 million hectolitres during the calendar year of 2012 (including licenced productions abroad) and with its export to more than 50 countries worldwide, Plzeňský Prazdroj Inc. is the preeminent beer producer in the region and the biggest exporter of the Czech beer.
Plzeňský Prazdroj Inc. is the member of SABMiller plc. group. Pilsner Urquell is the international flagship brand of the SABMiller brand portfolio.
SABMiller plc. is one of the world's biggest beer brewing companies with beer brewing activities or distribution in more than 60 countries across six continents. SABMiller portfolio includes important international Brands such as Grolsch, Miller Genuine Draft, Peroni Nastro Azzurro, and Pilsner Urquell, as well as almost 200 successful regional and national brands.
Plzeň