During Extra League Matches the Noise Level Is Nearly 120 decibels
20.3.2013
Gambrinus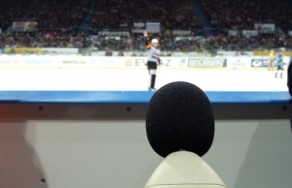 The measuring took place on all eight hockey rinks in the same place in each stadium, as close to home bench as possible. "Our goal was to measure how loud the home team players reflect cheering. That is why the noise meter was as close to a home bench as possible. To make sure that conditions will be same for all matches, we went to all televised matches," Radegast brand marketing manager Karel Kraus explained the rules of the measuring.
The noise meter was switched on for the entire length of the matches and it monitored the noise level without any interruptions. The highest level of 119.3 decibels was recorded in Ostrava during the 4th quarter-finals between Vítkovice and Zlín. 8,761 home fans were inspired to cheer so loud after a goal by Jiří Burgr who scored the winning shot during the extra play time. Fans from Litvínov were thus moved to second place with a noise level of 119.1 decibels, only two tenths less. The third highest level of noise was produced by Plzen fans, who reached 118.6 decibels. The average noise level among the noisiest moments on all stadiums was 114.6 decibels. That is not too far from the noise produced by an airplane taking off on a runway, producing around 120 decibels.
The noisiest fans from all of the play–offs from Vítkovice will get 1193 fresh beers, a gift from Radegast to celebrate the victory. "The gift will be awarded in cooperation with the fan club and the hockey club together. We will announce the details in a timely manner," Karel Kraus added.
More than 107 decibels were marked down at all eight stadiums. The highest levels were not marked down only during the goal situations. In ČEZ Arena in Ostrava, the meter marked down 118.8 decibels during the march–up of the players alone. Fans in Třinec produced more than 100 decibels just during the final wave.
Notes for editors:
One of the most modern Czech breweries, Radegast has produced beer since 1970. Radegast brewery has been a part of Plzeňský Prazdroj comp. since 1999.
With its total sale of nearly 9.9 million hectolitres during the calendar year of 2012 (including licenced productions abroad) and with its export to more than 50 countries worldwide, Plzeňský Prazdroj Inc. is the preeminent beer producer in the region and the biggest exporter of the Czech beer.
Plzeňský Prazdroj Inc. is a member of SABMiller plc. group. Pilsner Urquell is the international flagship brand of the SABMiller brand portfolio
SABMiller plc. is one of the world's biggest beer brewing companies with beer brewing activities or distribution in more than 60 countries across six continents. SABMiller portfolio includes important international Brands such as Grolsch, Miller Genuine Draft (draught), Peroni Nastro Azzurro, and Pilsner Urquell, as well as almost 200 successful regional and national brands.
Contact:
Vladimír Jurina
Plzeňský Prazdroj
+420 724 617 886
Praha