Vatican Accepted Traditional Greeting from Pilsen – Blessed Beer and an Original Gift from Pilsner Urquell
28.3.2013
Pilsner Urquell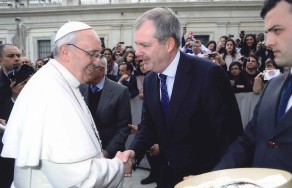 During the Wednesday general audience, General Manager of Plzeňský Prazdroj Doug Brodman presented newly–elected Pope Francis with a unique gift – beer from the blessed batch of Pilsner Urquell, a certificate of the origin, and mainly the original beer chalice.
The egg–shaped grind and softly gilded glass chalice decorated with Easter motifs was made by a successful Czech designer together with glass makers from Desna and Kamenicky Šenov.
2,013 0.3l bottles of the Easter batch that was blessed by Pilsen bishop František Radkovský on February 11th in the Pilsen Urquell brewing house also made it to Vatican. The original Pilsen lager will contribute to official celebrations of Easter in Rome. The tradition of sending blessed Pilsen beer to celebrate Easter came to life during the Beatification of Pope John Paul II in 2011. And so for three years in a row, Pilsen citizens together with Plzeňský Prazdroj are sending greetings to Vatican, and Pilsner Urquell is thus a part of Easter celebrations in Rome that host people from all around the world.

For more information contact:
Vladimír Jurina
Plzeňský Prazdroj
tel.: +420 724 617 886
Notes for editors:
With its total sale of nearly 9.9 million hectolitres during the calendar year of 2012 (including licenced productions abroad) and with its export to more than 50 countries worldwide, Plzeňský Prazdroj Inc. is the preeminent beer producer in the region and the biggest exporter of the Czech beer.
Plzeňský Prazdroj Inc. is the member of SABMiller plc. group. Pilsner Urquell is the international flagship brand of the SABMiller brand portfolio.
SABMiller plc. is one of the world's biggest beer brewing companies with beer brewing activities or distribution in more than 60 countries across six continents. SABMiller portfolio includes important international Brands such as Grolsch, Miller Genuine Draft, Peroni Nastro Azzurro, and Pilsner Urquell, as well as almost 200 successful regional and national brands.
Plzeň