Birell Lemon & Pomegranate: the Taste Palette Is Getting Wider
29.4.2013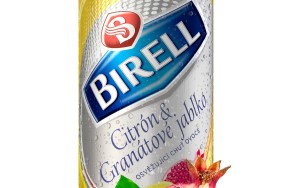 Citrus–flavoured beer drinks are very popular and so Birell taking this opportunity to offer its consumers a new novelty. The combination of lemons and nontraditional pomegranate offers a truly unique flavour experience that is pleasantly refreshing.
"We would like to offer most diverse flavour variants that will attract as many consumers as possible. They are great before or after various sport activities, or during the family trip. Thanks to the rich palette of flavours, it is possible to enjoy Birell with any kind of healthy meal," said Luděk Baumruk, marketing director of Plzeňský Prazdroj Company.
The fruit varieties are aimed at those who look for light refreshment. The novelty Birell Lemon & Pomegranate is not as sweet as Lime & Raspberry too. Birell Light keeps especially pleasing those who enjoy true beer taste and typical beer flare. Birell Semi-dark completes the flavor palette with its strong and full taste typical for dark beers known for their hints of caramel.
Same as other varieties, Birell Lemon & Pomegranate does not contain any preservatives or artificial coloring. Thanks to its low calorie content, Birell is suitable as an active lifestyle drink, and it is an ideal choice for replenishing of necessary fluids. The novelty hits the market in 0.5l cans.
Notes for editors:
Birell brand is a longtime leader of the entire category of nonalcoholic beers. It has been present on the Czech beer market for more than 20 years.
The portfolio includes Birell Light, Birell Semi dark, and Birell Lime & Raspberry, which was introduced to the market in the summer of 2012.
The perfect beer taste of Birell is appreciated not only by its consumers but also at international competitions. Its last success was World Beer Awards 2012.
With its total sale of nearly 9.9 million hectolitres during the calendar year of 2012 (including licenced productions abroad) and with its export to more than 50 countries worldwide, Plzeňský Prazdroj Inc. is the preeminent beer producer in the region and the biggest exporter of the Czech beer.
Plzeňský Prazdroj Inc. is the member of SABMiller plc. group. Pilsner Urquell is the international flagship brand of the SABMiller brand portfolio.
SABMiller plc. is one of the world's biggest beer brewing companies with beer brewing activities or distribution in more than 60 countries across six continents. SABMiller portfolio includes important international Brands such as Grolsch, Miller Genuine Draft, Peroni Nastro Azzurro, and Pilsner Urquell, as well as almost 200 successful regional and national brands.

Media contact information:
Vladimír Jurina
Manager of Corporate Relations and Communication
Plzeňský Prazdroj, Inc.
Phone: +420 724 617 886
E-mail:
Praha