Velkopopovický Kozel Will Introduce Its Unfiltered Lager
22.5.2013
Velkopopovický kozel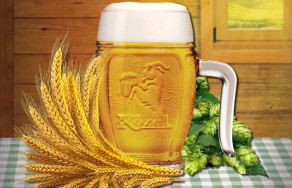 The traditional Day of Kozel festival in Velké Popovice will surprise its guests with several attractions. One of them is going to be a beer speciality: unfiltered lager. As with all years prior, Popovice brewers prepared a unique beer delicacy. This year, the vote fell on an unfiltered lager that is remarkable for its full taste and subtle bite. As a reward to all fans of Kozel beer, this brew will be available outside of the festival in all "Kozlovnas" (company pubs) and in 200 other restaurants around the Czech Republic for the duration of one month. "The unfiltered lager from Kozel is typical for its higher level of brewer's yeast and other natural materials that give beer a fuller taste." said Vojtěch Homolka, marketing brewer of Velkopopovický Kozel. The beer is distributed directly from the lager tanks, without any other manipulation, and therefore it requires extraordinary care from master bartenders.
The tapping of the unfiltered lager will take place on the Day of Kozel, on June 8 at 11:00 am.
Come reward yourselves for all your hard work with a frosty glass of unfiltered Kozel!
For those who cannot get to Popovice, the unfiltered lager will be available in all "Kozlovnas" and selected pubs until stock runs out.
Find a pub near you serving unfiltered Kozel lager at: www.kozel.cz/nefiltrovanylezak
For more information:
Vladimír Jurina
Brand PR Manager
phone: +420 724 617 886
e-mail: 

Notes for editors:
The first batch of beer was brewed in Velké Popovice brewery on December 15, 1874, and just one year later, 18 000 hl of beer were brewed and sold. Only a few years later, the brewery became the third biggest brewery in the country. They were famous especially for their dark, heavy beer.
Velkopopovický Kozel brand is irreplaceable on today's beer market. It is a brand with the most dynamic rise in Czech as well as foreign markets. Velkopopovický Kozel Dark is the leader among dark beer brands in the Czech beer market, and the best-selling Czech beer abroad.
Velké Popovice brewery has been a part of Plzeňský Prazdroj Company since 1999.
With its total sale of 9,9 millions of hectoliters during the calendar year of 2010 (including licensed productions abroad) and with exports to more than 50 countries worldwide, Plzeňský Prazdroj Inc. is the prominent beer producer in the region and the biggest exporter of the Czech beer.
Plzeňský Prazdroj Inc. is the member of SABMiller plc. group. Pilsner Urquell is the international flagship brand of the SABMiller brand portfolio.
SABMiller is one of the world's biggest beer brewing companies with beer brewing activities or distribution in more than 60 countries across six continents. SABMiller's brand group include such important brands as Pilsner Urquell, Miller Genuine Draft, Grolsch, Peroni Nastro Azzurro, and many other successful regional brands.
You can find more info about the most recent activities and projects supported by Velkopopovický Kozel brand at www.kozel.cz.
Praha