Radegast Enters the Season with a New Equipment, New Packaging, and Stronger Communication
22.5.2013
Radegast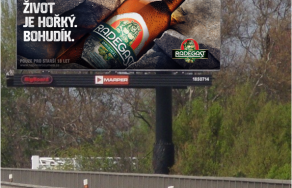 The increase in investments into the brand is explained by marketing director of Plzeňský Prazdroj Grant McKenzie: "Radegast is home in Moravia and its fans are extremely loyal. Its characteristic bitterness and the aim at real men have great potential. And so we have decided to support this brand even more and to make it possible for consumers in other regions of Czech Republic to enjoy Radegast as well. I am sure that it is going to be a great reason for its home fans to be justly proud."
Other investments into the brand are already bringing results: The Radegast logo, which has been redesigned, as well as the entire portfolio of packaging materials is being introduced in a massive campaign; the new, modern design in the form of POS materials is on its way to pubs. People will encounter the new Radegast identity during various events or wherever the beer is sold.
The popularity of Radegast beer in its home region is very important for the company. "We are not only hockey extra league partners but we are also partners of many competitive teams, such as Zlín, Třinec, Vítkovice, Havířov, and Olomouc. Radegast is also the official beer of Baník Ostrava soccer club, and of the unique industrial monument Lower Region Vítkovice. This year, it will return to Colors of Ostrava, and it will also be present at the Masters of Rock event. The summer will peak traditionally with Radegast Day, which was visited by more than 30,000 people last year," brand marketing manager Karel Kraus explained the most important activities of Radegast and added that Radegast is also active in digital media: "Our Facebook profile is followed by 45,000 fans, and a few days ago, we have started to Tweet as well. Our newly redesigned official website is very popular."
In November 2012, Radegast became a hockey extra league partner. In connection with that, Radegast is planning to open thematic hockey pubs all around Czech Republic. The third "Radegastovna" pub was opened just a few months ago. After Olomouc and Frenštát, it was in Prague this time. These days, Radegast is also a partner of the band Kabát's Czech tour.
*Source: continuous research TNS AISA 2010-2012
Notes for editors:
One of the most modern Czech breweries, Radegast has produced beer since 1970. Radegast brewery is a part of Plzeňský Prazdroj comp. since 1999.
With its total sale of nearly 9.9 million hectolitres during the calendar year of 2012 (including licenced productions abroad) and with its export to more than 50 countries worldwide, Plzeňský Prazdroj Inc. is the preeminent beer producer in the region and the biggest exporter of the Czech beer.
Plzeňský Prazdroj Inc. is a member of SABMiller plc. group. Pilsner Urquell is the international flagship brand of the SABMiller brand portfolio
SABMiller plc. is one of the world's biggest beer brewing companies with beer brewing activities or distribution in more than 60 countries across six continents. SABMiller portfolio includes important international Brands such as Grolsch, Miller Genuine Draft, Peroni Nastro Azzurro, and Pilsner Urquell, as well as almost 200 successful regional and national brands.

Contact:
Vladimír Jurina
Plzeňský Prazdroj
+420 724 617 886
Nošovice