Morávka River Will Undergo Thorough Cleansing
30.5.2013
Company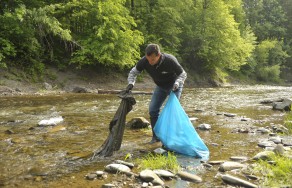 The cleaning of the river will be performed by the non-profit organisation ČSOP Salamander via project "Clean Morávka." The project is financially supported by Radegast Brewery with the donation of 200.000,00 CZK (about ,000.00 USD). "Radegast beer is being brewed in Beskydy and so the protection of the environment where the beer is being born is naturally one of the principles of our business. Last year, we have supported the plating of thousands of new trees, some of which we have planted ourselves. This year, we started to clean Morávka river," Radegast brand manager Karel Kraus said. Fifty employees of Plzeňský Prazdroj and about 10 significant Moravian personalities took to the river bed. They all started to clean the section of the river around Staré Město by Frýdeku-Místek. The town of Staré Město took care of the liquidation of the collected garbage.
"I am very happy that we were able to participate in this good deed. I was shocked to see how much dirt must be removed from the banks of the river. Beskydy Mountains are our region's pride so it should be everyone's duty to protect these natural wonders," Senator Eva Richtrová said.
Care for water resources and economical use of this natural resource is one of the priorities of Plzeňský Prazdroj Company, of which Radegast Brewery is a part. Conserving measures are aimed at maximal utilisation of water in washing, disinfecting, ad other technological processes of the production. They have been successful with these measures in Nošovice since, with the consumption of 2.91hl of water per 1hl of produced beer, Radegast Brewery belongs to the top 5 breweries of SABMiller Group, which contains more than 100 breweries from all around the world.

Notes for editors:
One of the most modern Czech breweries, Radegast has produced beer since 1970. Radegast brewery has been a part of Plzeňský Prazdroj comp. since 1999.
With its total sale of nearly 9.9 million hectolitres during the calendar year of 2012 (including licenced productions abroad) and with its export to more than 50 countries worldwide, Plzeňský Prazdroj Inc. is the preeminent beer producer in the region and the biggest exporter of the Czech beer.
Plzeňský Prazdroj Inc. is the member of SABMiller plc. group. Pilsner Urquell is the international flagship brand of the SABMiller brand portfolio
SABMiller plc. is one of the world's biggest beer brewing companies with beer brewing activities or distribution in more than 60 countries across six continents. SABMiller portfolio includes important international Brands such as Grolsch, Miller Genuine Draft, Peroni Nastro Azzurro, and Pilsner Urquell, as well as almost 200 successful regional and national brands.

Contact:

Vladimír Jurina
Plzeňský Prazdroj
+420 724 617 886
Nošovice