Learn Beach Volleyball with Kiki and Maki!
6.8.2013
Gambrinus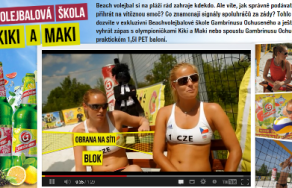 "Beach volleyball is a typical summer sport and during these sunny days, many are attempting to play it on beaches and at water parks. We came to an agreement with our partner Gambrinus and put together seven lessons for the summer school of beach volleyball. We are convinced that it will help amateur beach volleyball players to better their play," Kristýna Kolocová said. "The lessons are not just the basic theory. We tried to serve it in an entertaining way and to add some of our own. We thing it is very good and hope that these short videos will bring new fans to beach volleyball," Markéta Sluková added.
The fusion with the refreshing brand is appreciated by Kiki's and Miki's fans
Cooperation with the brand that offers fruit juice flavoured mixed beer drinks started this March. "It is a logical fusion. The best Czech beach volleyball players and exceptional Gambrinus Flavoured belong together during these hot summer days," marketing manager of Gambrinus brand Miroslav Peichl said. As a part of the year-long project called The Year with Kiki and Maki, their fans may watch their trainings, where they prepare, matches, and where they spend their free time at www.gambrinus-ochuceny.cz. Via short creative videos, Kiki and Maki guide them through all their tournaments and share their experiences as in "The Summer school of Beach Volleyball" available on the Internet now.

Contact:
Vladimír Jurina
Brand PR manager
t.: +420 724 617 886
e.:

Notes for editors:
Gambrinus Premium beer was the only Czech beer awarded at the international tasting competition The International Brewing Awards 2013 – among the beer brewing palls known as The Brewing Oscar. 40 brew-masters from 16 countries evaluated more than 800 beers from all around the world. Gambrinus Premium won silver medal in the Classic Lager category.
The wide portfolio of Gambrinus brand consists of Gambrinus Original 10°, Gambrinus 11° Excellent, Gambrinus Premium light lager, and Gambrinus Dry with low content of sugar.Since 2012, Gambrinus added Gambrinus Crisp Lemon, and Gambrinus Lime & Elderberry products to its portfolio. These are mixed beer drinks. They are typical for lower alcohol content and refreshing taste.
Thanks to following the original brewing recipes typical for Czech beer, and also thanks to the use of traditional Czech beer brewing materials, Gambrinus is entitled to use the quality  trademark "Czech Beer."
History of Gambrinus brand goes way back to 1869. Gambrinus is beer that won hearts and minds of its consumers thanks to its high quality and preserving of original brewing procedures.
Gambrinus is part of Plzeňský Prazdroj Inc. portfolio.  PP is member of SABMiller plc. With its total sale of nearly 9.9 millions of hectoliters during the calendar year of 2011 (including licensed productions abroad) and with its export to more than 50 countries worldwide, Plzeňský Prazdroj Inc. is the preeminent beer producer in the region and the biggest exporter of the Czech beer.
SABMiller plc. is one of the world's biggest beer brewing companies with 75,000 thousand employees and beer brewing activities or distribution in more than 75 countries across six continents. SABMiller portfolio includes important international Brands such as Grolsch, Miller Genuine Draft (draught), Peroni Nastro Azzurro, and Pilsner Urquell, as well as almost 200 successful regional and national brands such as Aguila (Colombia), Castle (South Africa), Miller Lite (USA), Snow (China), Victoria Bitter (Australia), and Tyskie (Poland).
Plzeň