The best helmet was inspired by František Šťastný
29.8.2013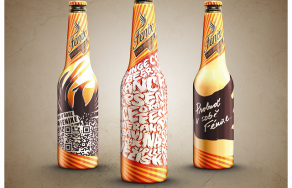 Vojtěch Staniš used the motif of the helmet used by the Czech motorcycle legend while circling the races in Czech Republic and around Europe. Dominant are a tricolor and the number 1965, which reminds us of the last and fifth title of Czech Champion that František Šťastný won.
The Birell Helmet contest took place during the Czech Republic Grand Pix in street motorcycle racing. Facebook users created nearly 3 thousand helmet designs. "Visitors to our Grand Prix and our Facebook profile selected the final five designs. Both designs received an equal number of votes, therefore we have decided to award the helmet to both authors. Nearly 10,000 people voted in the contest," Luděk Baumruk, marketing manager of Birellu brand, said. He added that the connection between Birel and motorcycles is logical: "Birell is an ideal refreshment for bike trips."
Only one helmet may be displayed in the Restaurant Birell Paddock at Brno racetrack. The one created by Vojtěch Staniš was chosen by the executive director of Brno racetrack Ivana Ulmanová.

Notes for editors
Birell brand is a longtime leader in the category of nonalcoholic beer. It has been present in the Czech market for more than 20 years.
The portfolio includes Birell Light, Birell Semi Dark, mixed drinks Birell Lime & Raspberry, and Birell Lemon & Pomegranate, which was introduced i to the market this spring
The perfect taste of Birell is appreciated not only by consumers but in international competitions as well. Its last success is World Beer Awards 2012.
With total sales of nearly 9.9 million hectolitres during the calendar year of 2012 (including licensed production abroad) and with exports to more than 50 countries worldwide, Plzeňský Prazdroj Inc. is the preeminent beer producer in the region and the biggest exporter of Czech beer.
Plzeňský Prazdroj Inc. is a member of SABMiller plc. group. Pilsner Urquell is the international flagship brand of the SABMiller brand portfolio.
SABMiller plc is one of the most significant beer companies in the world, with 70 thousand employees in 75 countries around the world. It offers more than 200 beer brands including world renowned brands such as Pilsner Urquell, Peroni Nastro Azzurro, Miller Genuine Draft a Grolsch, as well as important local brands such as Aguila (Columbia), Castle (South Africa), Miller Lite (USA), Snow (China), Victoria Bitter (Australia), and Tyskie (Poland).

Contact:
Vladimír Jurina
Plzeňský Prazdroj
+420 724 617 886
Brno