Gambrinus Juicy Citrus is one of the Beer Specials of 2013
30.8.2013
Gambrinus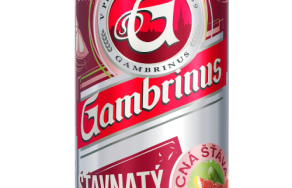 There is a big demand for low-calorie mixed beer drinks made of beer and fruit juices in the Czech Republic. Gambrinus Flavored, which has three flavours in its portfolio (2012 Gambrinus Lime & Elderberry, Gambrinus Sharp Lemon since 2012, and Gambrinus Juicy Citrus since 2013), is the top player on the market. Its products are known for quality content that provides the right refreshment. The products do not contain any artificial sweeteners or preservatives and during summer, they have become a hit among consumers.
"We are glad that our variations of flavours frequently place highly, and we are extremely happy to receive the Beer Special of the Year award. We can see that the novelty of citrus is successful with consumers as well as experts. We are even more pleased with the fact that it carries on the success of Gambrinus Lime & Elderberry and Gambrinus Sharp Lemon in the prestigious poll, Consumers' Choice – The Best Novelty of the Year 2013, awarded at the end of April, in the category of flavored beers," said Miloslav Peichl, Gambrinus brand marketing manager.
The organisers of the CEREVISIA SPECIALIS – PIVNÍ SPECIÁL ROKU 2013 contest is PORT LTD., expert guarantee is provided by the Beer and Malt Research Institute Inc.

Contact:
Vladimír Jurina                                                         
Brand PR manager                                                    
t.: +420 724 617 886                                                
e.: 

Plzeňský Prazdroj on social media:
Twitter https://twitter.com/Prazdroj1
LinkedIN https://www.linkedin.com/company/plzensky-prazdroj
Youtube http://www.youtube.com/user/PlzenskyPrazdroj1
Notes for editors:
Gambrinus Premium beer was the only Czech beer awarded at the international tasting competition, The International Brewing Awards 2013, among the beer-brewing polls known as The Brewing Oscar. Forty brew-masters from 16 countries evaluated more than 800 beers from all around the world. Gambrinus Premium won the silver medal in the Classic Lager category.
The wide portfolio of Gambrinus brand consists of Gambrinus Original 10°, Gambrinus 11° Excellent, Gambrinus Premium light lager, and Gambrinus Dry with low sugar. Since 2012, Gambrinus has added Gambrinus Crisp Lemon and Gambrinus Lime & Elderberry products to its portfolio. These are mixed beer drinks. They typically feature lower alcohol content and refreshing taste.
Thanks to following the original brewing recipes typical for Czech beer, and also thanks to the use of traditional Czech beer brewing materials, Gambrinus is entitled to use the quality trademark "Czech Beer."
The history of the Gambrinus brand goes way back to 1869. Gambrinus is a beer that won the hearts and minds of its consumers thanks to its high quality and preserving of original brewing procedures.
Gambrinus is part of Plzeňský Prazdroj Inc. portfolio.  PP is member of SABMiller plc. With its total sale of nearly 9.9 million hectolitres during the calendar year of 2011 (including licenced productions abroad) and with its export to more than 50 countries worldwide, Plzeňský Prazdroj Inc. is the preeminent beer producer in the region and the biggest exporter of the Czech beer.
SABMiller plc is one of the most significant world beer companies with 70,000 employees in 75 countries around the world. It offers more than 200 beer brands including the world renowned brand such as Pilsner Urquell, Peroni Nastro Azzurro, Miller Genuine Draft a Grolsch, as well as important local brands such as Aguila (Columbia), Castle (South Africa), Miller Lite (USA), Snow (China), Victoria Bitter (Australia) and Tyskie (Poland).
Plzeň