Kateřina Krásová is a new press contact for Plzeňský prazdroj
2.9.2013
Company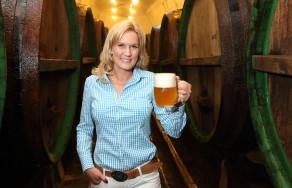 Kateřina Krásová is coming to Plzeňský Prazdroj from the same position in Mortgage Bank. Before that, she held the position of public relations manager in DIRECT Insurance Comp.
Kateřina Krásováhold holds a Magister title in Marketing Communications with a focus on Public Relations from the Financial and Administrative College in Prague. In her spare time, she likes to be active and travel.
"I am excited to be working for such an important beer brewing company as Plzeňský Prazdroj surely is, especially during a time when the beer market is developing dramatically and the company is bringing to consumers of the traditional beer brand many novelties and specials that make the beer category so much more attractive," she said.
Vladimír Jurina, the interim press contact will be continuing his work in public relations of individual brands.
The new Plzeňský Prazdroj press contact Kateřina Krásová is available to the media at:
Mobile: +420 724 617 219
Notes for editors:
With its total sale of nearly 9.9 million of hectolitres during the calendar year of 2012 (including licenced productions abroad) and with its export to more than 50 countries worldwide, Plzeňský Prazdroj Inc. is the preeminent beer producer in the region and the biggest exporter of the Czech beer.
Plzeňský Prazdroj Inc. is a member of SABMiller plc. group. Pilsner Urquell is the international flagship brand of the SABMiller brand portfolio.
SABMiller plc is one of the most significant world beer companies with 70 thousand employees in 75 countries around the world. It offers more than 200 beer brands including the world renowned brand such as Pilsner Urquell, Peroni Nastro Azzurro, Miller Genuine Draft a Grolsch, as well as important local brands such as Aguila (Columbia), Castle (South Africa), Miller Lite (USA), Snow (China), Victoria Bitter (Australia), and Tyskie (Poland).

Contact:
Kateřina Krásová
Plzeňský Prazdroj
+420 724 617 219
Plzeň