Bags from Strakonice are the winners of "The Urquell of Talents 2013" competition
19.9.2013
Company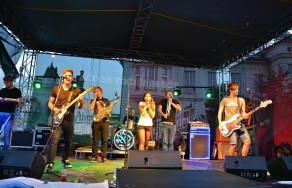 With the highest number of votes, The fans have selected the music band Bugsout of seven bands that made it to the finals of Urquell of Talents competition during the traditional series of concerts Summer in Prazdroj. The fans have decided during the public voting from September 2 to 16. The eight members formation from Strakonice has beaten equally qualified rivals Chai, Coctail… alá motejl, Isua, Frajara Putika, Fanfan, and Pillow Fight. They will receive free Pilsner Urquell beer for a year but mainly a chance to perform at Pilsen fest for honorarium of 20 thousand CZK (about 1.000 USD). The band Bags will play at 1:15pm at the lower arena and they will open the music portion of the Pilsner Fest program that is built to celebrate the brewing of the first batch of Pilsner Urquell beer on October 5.
Bags, the Strakonice group of eight musicians has played more than 150 concerts so far, they published 3 EPs, and one CD. Their fans know them from festivals and also as opening numbers for major bands such as Vypsaná fixa, Mandrage, and UDG. Their energetic pop-rock spiced up with electronics excited audience at Summer in Prazdroj festival, and now, they will have a chance to rich out to thousands of visitors of Pilsner Fest.

More info about the Pilsner Fest at www.pilsnerfest.cz.

More info:
Kateřina Krásová, Plzeňský Prazdroj,
tel.: +420 724 617 219

Plzeňský Prazdroj in social media:
Twitter twitter.com/Prazdroj1
LinkedIN www.linkedin.com/company/plzensky-prazdroj
Youtube www.youtube.com/user/PlzenskyPrazdroj1
Notes for editors:
With its total sale of nearly 9.9 million of hectoliters during the calendar year of 2012 (including licensed productions abroad) and with its export to more than 50 countries worldwide, Plzeňský Prazdroj Inc. is the preeminent beer producer in the region and the biggest exporter of the Czech beer.
Plzeňský Prazdroj Inc. is the member of SABMiller plc. group. Pilsner Urquell is the international flagship brand of the SABMiller brand portfolio.
SABMiller plc is one of the most significant world beer companies with 70 thousand employees in 75 countries around the world. It offers more than 200 beer brands including the world renowned brand such as Pilsner Urquell, Peroni Nastro Azzurro, Miller Genuine Draft a Grolsch, as well as important local brands such as Aguila (Columbia), Castle (South Africa), Miller Lite (USA), Snow (China), Victoria Bitter (Australia), and Tyskie (Poland).
Plzeň