Radegast succeeded in prestigious competition in Germany
25.9.2013
Radegast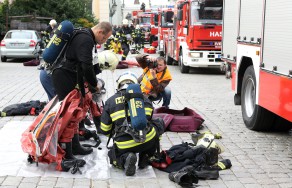 European Beer Star is a tasting competition where the judges evaluate the richness of taste and craftsmanship of individual beers. "This competition is one of the most prestigious competitions in Europe, and it pleases me even more than usual that the notable bitterness and full taste of Radegast reaped success with the judges. The outstanding placement in the competition is yet further proof of the excellence that our beer offers to our consumers," said Ivo Kaňák, manager of Radegast brewery.
Radegast is traditionally successful in Czech as well as in international competitions. Last year, it was awarded medals in the Czech Beer and Golden Cup Pivex competitions. The beer also earned medals in competitions in Australia and Belgium.
Results of European Beer Star in category Bohemian-Style Pilsner:
Gold medal: Boston Lager (USA)
Silver medal: Radegast Premium
Bronze medal: Gulpener Chateau Neubourg Pilsner (Netherlands)

Notes for editors:
Radegast beer brewery, one of the most modern beer breweries in Czech Republic produces beer since 1970.
Radegast brewery is a member of the biggest Czech beer brewing company Plzeňský Prazdroj, Inc. Since 1999.With its total sale of nearly 10 million of hectoliters during the calendar year of 2012 (including licensed productions abroad) and with its export to more than 50 countries worldwide, Plzeňský Prazdroj Inc. is the preeminent beer producer in the region and the biggest exporter of the Czech beer.
Plzeňský Prazdroj Inc. is the member of SABMiller plc. group. Pilsner Urquell is the international flagship brand of the SABMiller brand portfolio.
SABMiller plc. is one of the world's biggest beer brewing companies with beer brewing activities or distribution in more than 60 countries across six continents. SABMiller portfolio includes important international Brands such as Grolsch, Miller Genuine Draft, Peroni Nastro Azzurro, and Pilsner Urquell, as well as premium local brands such as Aguila (Columbia), Castle (South Africa), Miller Lite (USA), Snow (China), Victoria Bitter (Australia), and Tyskie (Poland).

Contact:
Vladimír Jurina
Plzeňský Prazdroj
+420 724 617 886
Nošovice