Record Visitor Participation at "Summer in Prazdroj" Beats All Expectations
14.10.2013
Company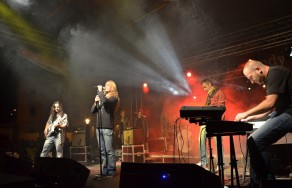 This year, from July 11 to August 29, during the "Summer in Prazdroj" event, the series of Thursday concerts traditionally taking place at the courtyard of the Pilsen brewery, about 26,000 visitors consumed more than 40,000 half-litre glasses of traditional Pilsen beers and nearly 8hl of beers mixed with fruit juices, which are now becoming a traditional summer hit.
"Summer in Prazdroj" again gave an opportunity to young talented bands; the winner chosen by public voting got a chance to perform at the renowned Pilsen festival, "Pilsner Fest." This year's series of concerts, which hosted the popular Burma Jones, YoYo band, Odyssea, and even Kamil Střihavka, who came at the end of the festival, offered its visitors high-quality sound provided by a linear sound system. A new tap station distribution system and the introduction of a calm zone had a positive impact on the amount of beer served and the total number of visitors to the Thursday entertainment evening in the brewery.
"We are glad that the Pilsen brewery has become not only a popular tourist destination but also a place where people regularly come to enjoy a good beer and an exceptional music experience provided by known as well as new bands," said Drahomíra Mandíková from Plzeňský Prazdroj, who added: "The best reward for organisers is always the rich participation of visitors and this year it exceeded all our expectations."
Notes for editors:
With its total sale of nearly 9.9 million hectolitres during the calendar year of 2012 (including licenced productions abroad) and with its export to more than 50 countries worldwide, Plzeňský Prazdroj Inc. is the preeminent beer producer in the region and the biggest exporter of the Czech beer.
Plzeňský Prazdroj Inc. is a member of SABMiller plc. group. Pilsner Urquell is the international flagship brand of the SABMiller brand portfolio.
SABMiller plc is one of the most significant world beer companies with 70,000 employees in 75 countries around the world. It offers more than 200 beer brands, including world-renowned brands such as Pilsner Urquell, Peroni Nastro Azzurro, Miller Genuine Draft and Grolsch, as well as important local brands such as Aguila (Columbia), Castle (South Africa), Miller Lite (USA), Snow (China), Victoria Bitter (Australia) and Tyskie (Poland).

Press contact for Plzeňský Prazdroj Kateřina Krásová is available to media at:
Mobile: +420 724 617 219
Plzeňský Prazdroj in social media:
Twitter twitter.com/Prazdroj1
LinkedIN www.linkedin.com/company/plzensky-prazdroj
Youtube www.youtube.com/user/PlzenskyPrazdroj1
Plzeň