Prazdroj To People Program Will Support 12 Project In Moravian-Silesian Region
28.11.2013
Company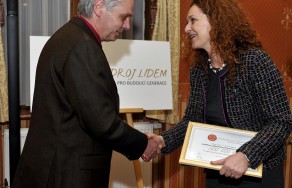 42 nonprofit and governmental organizations that submitted 45 projects competed for a donation in the 12th annual Prazdroj to People program. The Council of Selectmen, consisting of important figures from the Moravia-Silesia region, chose 20 of them. Selected projects advanced to the public-voting round and received nearly 7,000 votes.
"The subtitle of this year's program was For the Future Generations. It was a clear message to organizations to submit projects that would bring lasting impact and benefits to the next generations. I am pleased that the resources from the program will help good causes with lasting benefits," said Drahomíra Mandíková, Director of Corporate Relations and Communications at Pilsner Urquell.
The full requested amount was awarded to three organizations. The biggest public support was given to the choir from Baška. "We are grateful for the support and votes. I am very happy that I am able to invite everyone to the International Festival of Choirs that will take place in spring of next year. It is a celebration of amateur singing that has a long tradition in our region," said Michal Válek, the author of the project and the chairman of the choir.
Thanks to the votes from the employees of Plzeňský Prazdroj and Radegast brewery, the Mobile Hospice Ondrášek will be able to help dying people and their loved ones in a much more substantial way. The Council of Selectmen also selected their favorite project. Its members supported the project Children Bee Farm Kozlovice, thanks to which a new bee farm will be created.
According to Drahomíra Mandíkova, the future of the Prazdroj to People program is clear: "It is a unique program where the citizens of the region, important personalities and our employees play a very important role. Thanks to the program we have redistributed 26.5 million CZK (about 1,325,000 USD) in the Moravia-Silesia region. We will continue with this 12 year old tradition next year as well and I am sure we will receive some very interesting submissions."

The list of projects that received financial support during the 12th annual Prazdroj to People program:
International Festival of Choirs 2014, Lašsko Choir Baška
Help to People Dying at Home, Mobile Hospice Ondrášek
Children Bee Farm Kozlovice, Czech Association of Beekeepers
To Children for Health, Elementary School and Preschool Lískovec
Children Love Horses, Voltiž Duha
New Lockers for Young Athletes, Sport Association Slezan Frýdek-Místek
Frýdek-Místek – 20th time a Center of the World Folklore, Children Folklore Group Ostravička
A Button SOS for Grandma and Grandpa, Charity Třinec
Multifunctional Children Sport Playground, School Sport Club Bílovec
Recovery Fitness Center for Handicapped, Sport Association Ostrava
Camp Stružielka – Eia Gai, Rotary Club Ostrava
Garden of Dreams, Elementary School Jablunkov

Notes for editors:
Radegast Beer Brewery, one of the most modern breweries in the Czech Republic, has been producing beer since 1970.
Radegast Brewery has been a member of the biggest Czech brewing company Plzeňský Prazdroj Inc. since 1999. With total sale of nearly 10 million hectoliters during the 2012 calendar year (including licensed production abroad) and with exports to more than 50 countries worldwide, Plzeňský Prazdroj Inc. is the preeminent beer producer in the region and the biggest exporter of Czech beer.
Plzeňský Prazdroj Inc. is a member of SABMiller plc group. Pilsner Urquell is the international flagship brand of the SABMiller brand portfolio.
SABMiller plc is one of the world's biggest brewing companies with beer brewing activities or distribution in more than 60 countries across six continents. The SABMiller portfolio includes important international brands such as Grolsch, Miller Genuine Draft, Peroni Nastro Azzurro, and Pilsner Urquell, as well as premium local brands like Aguila (Colombia), Castle (South Africa), Miller Lite (USA), Snow (China), Victoria Bitter (Australia), and Tyskie (Poland).
Contact:
Kateřina Krásová
Plzeňský Prazdroj
+420 724 617 219
Plzeňský Prazdroj in social media:
Twitter https://twitter.com/Prazdroj1
LinkedIN https://www.linkedin.com/company/plzensky-prazdroj
Youtube http://www.youtube.com/user/PlzenskyPrazdroj1
Nošovice