Centre Umbrella accepted a cheque for a half million CZK (about 24,000 USD) that came from the auction of ten unique Pilsner Urquell bottles
20.12.2013
Company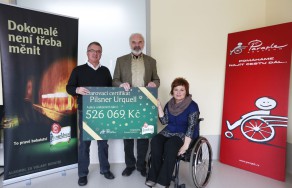 The sum of 526,069 CZK went to Centre Umbrella, which helps people with severe spine injuries, as the result of the charitable auction of unique Pilsner Urquell bottles from renowned designer Lars Kemper. The auction happened with the cooperation of the news server on Tuesday, December 10th. Zdeněk Svěrák was present during the presentation of the cheque in Prague, Malešice where the centre is located. He said: "Friends from Plzeňský Prazdroj and iDNES, with their traditional bottle auction, could not give us a more beautiful Christmas present. I am very pleased that the proceeds of the auction go to Centre Umbrella once again. Thanks to the generous bidders, we will be better prepared to help people in wheelchairs."
The auction took 7 hours and even Czechs living abroad took place in it. Centre Umbrella is planning to use the money from the auction to purchase rehabilitation, healing, and sport equipment. With the assistance of Václava Berka, senior marketing manager of Plzeňský Prazdroj, 10 successful bidders will be able to fill their bottles themselves with unfiltered Pilsner Urquell lager from an oak barrel in historic brewery cellars. Lager barrels and the craft of beer brewing inspired the design of the bottles which resemble a wooden beer barrel. Each bottle is an original marked with a number from 1 to 10 and all pieces were made by glass makers in Novy Bor.
"Social responsibility is part of Plzeňský Prazdroj's business strategy and I am very happy that we helped to get so much needed money for Centre Umbrella," said Vladimír Jurina, PR manager of Plzeňský Prazdroj during the event.
More information:
Kateřina Krásová
Plzeňský Prazdroj
tel.: +420 724 617 219
Plzeňský Prazdroj in social media:
Twitter twitter.com/Prazdroj1
LinkedIN www.linkedin.com/company/plzensky-prazdroj
Youtube www.youtube.com/user/PlzenskyPrazdroj1
Notes for editors:
With its total sale of nearly 9.9 million of hectolitres during the calendar year of 2012 (including licensed productions abroad) and with its export to more than 50 countries worldwide, Plzeňský Prazdroj Inc. is the preeminent beer producer in the region and the biggest exporter of the Czech beer.
Plzeňský Prazdroj Inc. is the member of SABMiller plc. group. Pilsner Urquell is the international flagship brand of the SABMiller brand portfolio.
SABMiller plc is one of the most significant world beer companies, with 70 thousand employees in 75 countries around the world. It offers more than 200 beer brands including world-renowned brands such as Pilsner Urquell, Peroni Nastro Azzurro, Miller Genuine Draft, and Grolsch, as well as important local brands such as Aguila (Columbia), Castle (South Africa), Miller Lite (USA), Snow (China), Victoria Bitter (Australia), and Tyskie (Poland).
Praha