The Marketing Team of Plzeňský Prazdroj Is Being Reinforced With Paul Barnett in Retail and Jiří Salaj in Hospitality and Trade Departments
15.1.2014
Pilsner Urquell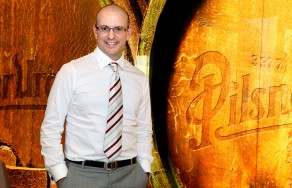 Paul Barnett, newly appointed director of marketing and retail, and Jiří Salaj who is now responsible for hospitality and trade, became new members of the Plzeňský Prazdroj Inc.'s top management.
Paul Barnett (40) joined the top management team of Plzeňský Prazdroj in the position of retail marketing director. His responsibilities include sales of Plzeňský Prazdroj brands via retail partners such as hypermarkets, supermarkets, or small retail units, and fulfilling  company strategies for the given field. Paul Barnett came to Plzeňský Prazdroj from its parent company SABMiller Europe where he worked as a marketing director in the Shopper Marketing Department where he was responsible for the development and reinforcement of  cooperation with key partners in trade since 2011. Before joining the beer brewing group SABMiller, he worked for 15 years at Johnson&Johnson and Nestle. Along with Europe he was active in Australia and Asia. He was responsible for innovative projects in retail and for customer relations on global, regional and local levels.
Paul Barnett comes from Australia. He has a degree in international trade from Monash University. He speaks English and is able to communicate in Chinese as well. His hobbies include family, travelling, and photography.
Jiří Salaj (47) was appointed as director for marketing and customer relations on trade and hospitality. His responsibilities include management of all marketing activities and the development and implementation of national strategy for the Plzeňský Prazdroj Corp. for on trade and hospitality. Jiří Salaj, who spent the majority of his professional life in the beverage retail field, came to Plzeňský Prazdroj from the position of a commercial director at Milos Structural Systems Corp., Litec, Italy. There he was responsible for customer relations management. Before Milos Structural, he spent 6 years as an independent consultant providing consulting services to commercial subjects during the implementation of business strategies and consultations in the field of the effectiveness of sales and marketing workers. Jiří Salaj is bringing with him many valuable experiences from FMCG sector, which he gained during his time he spent at Jan Becher – Pernod Ricard Corp. where he held the post of commercial director (1998-2006). There he built a successful commercial organization (Trade, Logistics, Customer Services, and Trade Marketing).
Jiří Salaj studied at Technical College in Brno. He speaks fluent English and knows German, and Russian. His hobbies include skiing, snowboarding and windsurfing.
"In Plzeňský Prazdroj, we care deeply about history, tradition, quality, and an excellent beer experience for our consumers. However, thanks to our close cooperation with our customers, we also bring new features in the fields of restaurant hospitality as well as home enjoyment via our retail network. I am convinced that Paul Barnett's and Jiří Salaj's experiences will significantly enrich our effort to support the Czech beer tradition and the renaissance of Czech beer culture," says Paolo Lanzarotti, general manager of Plzeňský Prazdroj.

Press contact of Plzeňský Prazdroj Kateřina Krásová is available to media at:
Mobile: +420 724 617 219

Notes for editors:
With its total sale of nearly 9.9 million of hectoliters during the calendar year of 2012 (including licensed productions abroad) and with its export to more than 50 countries worldwide, Plzeňský Prazdroj Inc. is the preeminent beer producer in the region and the biggest exporter of the Czech beer.
Plzeňský Prazdroj Inc. is the member of SABMiller plc. group. Pilsner Urquell is the international flagship brand of the SABMiller brand portfolio.
SABMiller plc is one of the most significant world beer companies with 70 thousand employees in 75 countries around the world. It offers more than 200 beer brands including the world renowned brand such as Pilsner Urquell, Peroni Nastro Azzurro, Miller Genuine Draft (draught) a Grolsch, as well as important local brands such as Aguila (Columbia), Castle (South Africa), Miller Lite (USA), Snow (China), Victoria Bitter (Australia), and Tyskie (Poland).
Contact:
Kateřina Krásová
Plzeňský Prazdroj
+420 724 617 219
Plzeň