Beer Tourism Keeps Attracting More and More Czechs as Well as Foreign Tourists – the Number of Visitors to Plzeňský Prazdroj Reached 317,000 in the Last Year
27.1.2014
Uncategorized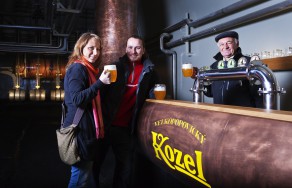 The tours at Plzeňský Prazdroj were visited by a record number of tourists, about 2 percent more than during the preceding year. A number of novelties played a role in this increase. The absolute hit was the special event at Radegast brewery – a night tour with a tasting of the Radegast Gloomy Bitter. Besides that, Plzeňský Prazdroj breweries attract a wide public audience to a whole line of cultural events every year. The most visited ones last year included Pilsner Fest in Pilsen, The Day of Radegast in Nošovice, and The Billy Goat's Day in Velké Popovice.
The total number of people who visited the tours of Prazdroj, Gambrinus, Kozel in Velké Popovice, and Radegast in Nošovice, and the Beer Brewing Museum and Pilsen Historic Underground trails was more than 317,000. That is nearly a 2 percent annual increase. Besides the domestic visitors, the tours were visited by tourists from 107 states. The highest numbers came from Germany, Southeast Asia, Russia and Great Britain. An increase in interest in beer tourism was also noted with tourists from Estonia and Lithuania. This total does not even include visitors from South Korea, Brazil, Australia, Argentina, Vietnam, Zimbabwe, Congo and Madagascar.
Thanks to the fame of Czech beer, attractiveness of the tours, and cultural novelties in programming, visitors' tours at Plzeňský Prazdroj belong amongst the foremost popular destinations for industrial tourism in the Czech Republic. Last year, the tour of Pilsner Urquell had a significant recognition when it received an award from the travel portal TripAdvisor – the Certificate of Excellence. This placed it among the top 10 percent of the best evaluated tourist destinations in the world.
"Thanks to a number of novelties, we were able to increase the total annual number of visitors on all of our visitors' tours. We saw interest in night tours of Radegast brewery as well as in cultural events in our other breweries. Those often attract visitors to take a tour as well. We are preparing a number of such events for this year as well. Visitors may look forward to the celebration of 140 years of Velkopopovický Kozel, which will take place over the course of the entire year, as well as the expansion of expositions in the Visitors Centre of the Radegast brewery relating to hockey. In Pilsen, there will be concerts presented as part of Smetana's Day, plus a number of other cultural events including exhibitions," said Jindřiška Eliášková, manager of the Department of Historic Heritage and the Development of Tourism of Plzeňský Prazdroj Comp.
Increasing numbers of visitors are coming from China, and that is thanks to the "Chinese Certificate of Quality Destination," which Plzeňský Prazdroj was awarded in 2012, the first Czech destination outside of Prague. It is an internationally recognised certificate that represents the quality of tourism in a destination for Chinese agencies.
"We are pleased by the increase of interest in our tours, presented novelties and cultural events we organise. Thanks to the higher number of visitors, we are able to continue spreading the fame of Czech beer all around the world. We are convinced that that supports the popularity of the Czech Republic as a tourist destination," added Jindřiška Eliášková.
More than 120 professional guides and employees of the Visitor Centers are involved in providing an unforgettable experience for our visitors. At this time, the spoken tours describing the production, history and presence of Czech beer are available in seven world languages.

Press contact of Plzeňský Prazdroj Kateřina Krásová is available to media at:
Mobile: +420 724 617 219
Email:

Notes for editors:
With its total sale of nearly 9.9 million of hectoliters during the calendar year of 2012 (including licensed productions abroad) and with its export to more than 50 countries worldwide, Plzeňský Prazdroj Inc. is the preeminent beer producer in the region and the biggest exporter of the Czech beer.
Plzeňský Prazdroj Inc. is the member of SABMiller plc. group. Pilsner Urquell is the international flagship brand of the SABMiller brand portfolio.
SABMiller plc is one of the most significant world beer companies with 70 thousand employees in 75 countries around the world. It offers more than 200 beer brands including the world renowned brand such as Pilsner Urquell, Peroni Nastro Azzurro, Miller Genuine Draft (draught) a Grolsch, as well as important local brands such as Aguila (Columbia), Castle (South Africa), Miller Lite (USA), Snow (China), Victoria Bitter (Australia), and Tyskie (Poland).

Contact:
Kateřina Krásová
Plzeňský Prazdroj
+420 724 617 219
Plzeň