Velkopopovický Kozel 11° Is a Champion
25.2.2014
Velkopopovický kozel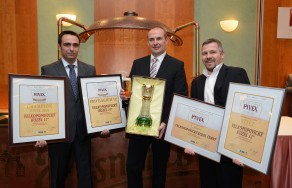 Prazdroj's beers succeeded in a majority of categories in the prestigious competition Pivex – Beer of the Year 2014
The expert tasting competition in the beer-brewing field, Golden Cup Pivex – Beer of 2014, belonged without question to Velkopopovický Kozel 11°. Besides the top prize of Champion, it also won the special award Privilege 11 in the category of 11-degree beers and the highest award in the category of light lagers. Second place went to Radegast Premium beer.  Birell Lemon & Pomegranate occupied second and Birell Lime & Raspberry the third place in the category of non-alcoholic mixed drinks. Birell Light, Velkopopovický Kozel Dark and Gambrinus Juicy Citrus also placed in other categories. Eight beers in total from the portfolio of Plzeňský Prazdroj breweries placed in the competition and that is a record success as of today.
Prazdroj beers celebrated a success in nearly all main categories of the competition, which was a part of the gala event of beer brewers and malt makers of Czech Republic on Monday, February 24, in the convention hall Orea in the hotel Voroněž in Brno. "The absolute title of Champion for Velkopopovický Kozel 11° and its other victories in individual categories we see as an excellent outcome of the competition. However, we are happy for any award our beers win, including success in the non-alcoholic mixed beers category. The jury highly praised Birell Lemon & Pomegranate and Birell Lime & Raspberry," said Paolo Lanzarotti, general manager of Plzeňský Prazdroj, sharing his joy.
In a total of six categories – light lagers, light tap beers, dark beers, non-alcoholic beers, low alcohol mixed beers, and non-alcoholic mixed beers – the jury farther awarded second place to Velkopopovický Kozel Dark for dark beers and Birell Light as the second best non-alcoholic beer. The popularity of the low alcohol mixed beer Gambrinus Juicy Citrus was reinforced with third place in its category.

Plzeňský Prazdroj press contact Kateřina Krásová is available to media at:
Mobile: +420 724 617 219
Email: 

Notes for editors:
With its total sale of nearly 9.7 million hectolitres during the calendar year of 2013 (including licenced productions abroad) and with its export to more than 50 countries worldwide, Plzeňský Prazdroj Inc. is the preeminent beer producer in the region and the biggest exporter of the Czech beer.
Plzeňský Prazdroj Inc. is a member of SABMiller plc. group. Pilsner Urquell is the international flagship brand of the SABMiller brand portfolio.
SABMiller plc is one of the most significant world beer companies with 70,000 employees in 75 countries around the world. It offers more than 200 beer brands including world-renowned brands such as Pilsner Urquell, Peroni Nastro Azzurro, Miller Genuine Draft a Grolsch, as well as important local brands such as Aguila (Columbia), Castle (South Africa), Miller Lite (USA), Snow (China), Victoria Bitter (Australia) and Tyskie (Poland).
Contact:
Kateřina Krásová
Plzeňský Prazdroj
+420 724 617 219
Plzeň