Prazdroj Was Awarded Certificate of the Audit Family and Employment
24.2.2014
Company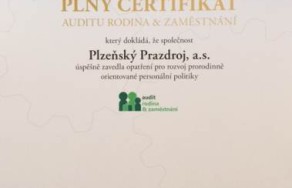 Today, Ivan Balogh, Director of Human Resources for Plzeňský Prazdroj, accepted the completed Certificate of the Audit Family and Employment from the hands of Deputy Minister for Social and Family Policies Zuzana Jentschke Stőcklova. Plzeňský Prazdroj defended the award of the Certificate at the beginning of this year after fulfilling its action plan accepted at the beginning of the audit in 2012.
"It is my utmost pleasure to be accepting this certificate. It declares that we truly want to harmonise work and the personal lives of our employees. It is no secret that a happy employee is loyal and most effective. It is every employer's dream. Our activities do not stop with the awarding of this certificate. We have much to do and I am convinced that Plzeňský Prazdroj will conquer all tasks successfully, even in the future," said Ivan Balogh, Director of Human Resources for Plzeňský Prazdroj, after accepting the certificate.
The action plan of the Audit Family and Employment included many activities and covered many fields, such as the company's ethics, working hours, work distribution, personal development, etc.
Thanks to the audit, pro-family policies became a part of regular meetings of social dialog and supporting of pro-family policies found its place in a new working order. Now, it is possible to work from home where the character of the work allows it, a so-called home office. Flexible contracts were implemented (alternate employment agreements, shorter working hours, etc.) The Audit Family and Employment also aimed at the communication with parents on maternity leave, their return to work and other activities demonstrating pro-family orientation of the company.
The award of the certificate does not mean the ending of such activities in Prazdroj. Now, it is important to activate the policies and incorporate them fully into the company's operations, keep them up and develop them.

Plzeňský Prazdroj press contact Kateřina Krásová is available to media at:
Mobile: +420 724 617 219
Email: 

Notes for editors:
With its total sale of nearly 9.7 million hectolitres during the calendar year of 2013 (including licenced productions abroad) and with its export to more than 50 countries worldwide, Plzeňský Prazdroj Inc. is the preeminent beer producer in the region and the biggest exporter of the Czech beer.
Plzeňský Prazdroj Inc. is a member of SABMiller plc. group. Pilsner Urquell is the international flagship brand of the SABMiller brand portfolio.
SABMiller plc is one of the most significant world beer companies with 70,000 employees in 75 countries around the world. It offers more than 200 beer brands, including world-renowned brands such as Pilsner Urquell, Peroni Nastro Azzurro, Miller Genuine Draft a Grolsch, as well as important local brands such as Aguila (Columbia), Castle (South Africa), Miller Lite (USA), Snow (China), Victoria Bitter (Australia) and Tyskie (Poland).
Contact:
Kateřina Krásová
Plzeňský Prazdroj
+420 724 617 219
Plzeň