Students Awarded Prazdroj the Title of Top Employer of the Year
26.2.2014
Company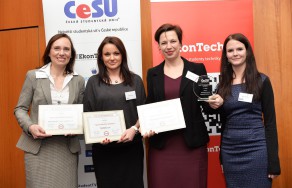 Plzeňský Prazdroj became the TOP Employer of 2013/2014 in the category of consumer industries. It is the second time in history that the company won the prize in the survey organised every year by the Czech Student Union. More than 8,800 students participated in the survey asking where they would like to work most after graduation.
"We value the award that we got from students. If students consider us a prestigious company with an excellent work environment and an attractive working culture it is not only a great acknowledgement for us but also a promise of interesting cooperation that I am personally looking forward to," said Zuzana Janatová, senior recruiter of Plzeňský Prazdroj, during the ceremonial award event.
The project of TOP Employer of the Year, organised by the Czech Student Union for the third time this year, is made possible thanks to cooperation with universities, student organisations and business partners. Plzeňský Prazdroj has repeated its success from last year and reached for the highest prize in one of the 10 market branches – in the category of Consumer Industries. The company thus secured its position as one of the most attractive employers in the Czech Republic.
Plzeňský Prazdroj, a long-time partner of the College of Economy and the Chemo-Technological College in Prague, offers students majoring in economics and technological subjects practical training during their studies. The company offers summer employment programmes to students at junior and senior levels. They have a chance to experience work in several various sectors of the brewery. Interested students may apply for the positions until the end of March. The most successful participants in these summer programmes will be offered a trainee programme or an actual job at Plzeňský Prazdroj after graduation.

Plzeňský Prazdroj press contact Kateřina Krásová is available to media at:

Mobile: +420 724 617 219 Z

Email: 
Notes for editors:
With its total sale of nearly 9.7 million of hectoliters during the calendar year of 2013 (including licensed productions abroad) and with its export to more than 50 countries worldwide, Plzeňský Prazdroj Inc. is the preeminent beer producer in the region and the biggest exporter of the Czech beer.
Plzeňský Prazdroj Inc. is the member of SABMiller plc. group. Pilsner Urquell is the international flagship brand of the SABMiller brand portfolio.
SABMiller plc is one of the most significant world beer companies with 70 thousand employees in 75 countries around the world. It offers more than 200 beer brands including the world renowned brand such as Pilsner Urquell, Peroni Nastro Azzurro, Miller Genuine Draft  a Grolsch, as well as important local brands such as Aguila (Columbia), Castle (South Africa), Miller Lite (USA), Snow (China), Victoria Bitter (Australia), and Tyskie (Poland).

Contact:
Kateřina Krásová
Plzeňský Prazdroj
+420 724 617 219
Plzeň