Olympic Coasters Pilsner Urquell Raised More Than 11 Thousand CZK for Centre Umbrella
17.3.2014
Company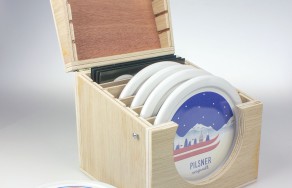 Today, at 2:00 p.m., after several days of bidding, the auction of unique art coasters from Pilsen Urquell with golden Olympic Games motifs ended on Aukro. The total amount of 11,100- CZK (about 550.00 USD) will go to Centre Umbrella, a Pilsner Urquell long time supported organisation.
A charitable auction for Centre Umbrella took place at Aukro.cz starting on March 12. The subject of the auction was the set of unique art coasters from Pilsner Urquell with motifs of the Winter Olympic Games where Czech athletes won golden medals. During its dramatic conclusion, the auction, at which 30 auctioneers took part, brought 11,100- CZK for the Centre Umbrella.
"I would like to thank all who helped us organise the event. It is not our first event together with Pilsner Urquell and we are very grateful for this fruitful partnership. We congratulate the winner of the auction and believe that the coasters will bring him as much joy as he did to our clients with his contribution to this good cause. Because of the sport theme of the auction we will use the money for sport activities for people in wheelchairs during our spring sport seminar," said Štěpánka Antošová, Director of Centre Umbrella.
The designs of the six coasters were inspired by Czech victories in the Winter Olympic Games. Artists from the cities where our athletes won their gold designed each coaster. The signature of the gold medal holder from Sochi and Vancouver, speed skater Martina Sáblíkova, enhances the collectible value of the set.
Pilsner Urquell has supported Centre Umbrella for many years. Before last Christmas, generous buyers came to bid on ten bottles of Pilsner Urquell designed by Lars Kemper. The auction organized by Plzeňský Prazdroj and iDNES portal raised a nice, symbolic Christmas present of 526,069- CZK (about 26,000.00 USD) for the Centre Umbrella.

Plzeňský Prazdroj press contact Kateřina Krásová is available to media at:
Mobile: +420 724 617 219
Email: 

Notes for editors:
With its total sale of nearly 9.7 million of hectoliters during the calendar year of 2013 (including licensed productions abroad) and with its export to more than 50 countries worldwide, Plzeňský Prazdroj Inc. is the preeminent beer producer in the region and the biggest exporter of the Czech beer.
Plzeňský Prazdroj Inc. is the member of SABMiller plc. group. Pilsner Urquell is the international flagship brand of the SABMiller brand portfolio.
SABMiller plc is one of the most significant world beer companies with 70 thousand employees in 75 countries around the world. It offers more than 200 beer brands including the world renowned brand such as Pilsner Urquell, Peroni Nastro Azzurro, Miller Genuine Draft (draught) a Grolsch, as well as important local brands such as Aguila (Columbia), Castle (South Africa), Miller Lite (USA), Snow (China), Victoria Bitter (Australia), and Tyskie (Poland).
Plzeň