Plzeňský Prazdroj Comp. Has a New Union Contract
28.4.2014
Company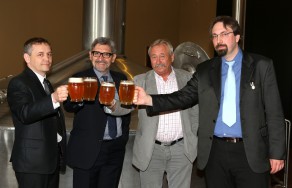 Plzeňský Prazdroj officials, and representatives of union organisations active in the company, sign a new union agreement in the historic brewing house of Velké Popovice brewery. It will take effect starting April 1, 2014, and will be valid for two years in all its provisions. Bohumír Matas, Radovan Otipka and Tomáš Vančura signed for the unions and Ivan Balogh, director of human resources department for the management of the company.
Both side agreed on a 2.5 percent pay increase based on an individual output starting July 1, 2014. According to similar criteria, both sides agreed to adjust the pay for 2015 at about a 1.5 percent increase. In case the inflation surpasses the mentioned percentage, Plzeňský Prazdroj is prepared to increase the pay for the second binding year of the union agreement up to 2.5 percent.
Next to the changes in pay policies, the employees of Plzeňský Prazdroj may look forward to more benefits affecting some selected departments working on multiple shifts. The other changes will affect safety and health issues in the work place, and health concerns of all employees.
"The collective bargaining was intense and constructive. I am glad that we came to an agreement and signed the optimal version acceptable for both parties. I believe that it will bring satisfaction and loyalty of our employees and result in stronger work ethics and a good atmosphere in all departments of Plzeňský Prazdroj," said Ivan Balogh, director of human resources, commenting on the signing of the agreement.
Plzeňský Prazdroj press contact Kateřina Krásová is available to media at:
Mobile: +420 724 617 219
Email:
Notes for editors:
With its total sale of nearly 9.7 million of hectoliters during the calendar year of 2013 (including licensed productions abroad) and with its export to more than 50 countries worldwide, Plzeňský Prazdroj Inc. is the preeminent beer producer in the region and the biggest exporter of the Czech beer.
Plzeňský Prazdroj Inc. is the member of SABMiller plc. group. Pilsner Urquell is the international flagship brand of the SABMiller brand portfolio.
SABMiller plc is one of the most significant world beer companies with 70 thousand employees in 75 countries around the world. It offers more than 200 beer brands including the world renowned brand such as Pilsner Urquell, Peroni Nastro Azzurro, Miller Genuine Draft (draught) a Grolsch, as well as important local brands such as Aguila (Columbia), Castle (South Africa), Miller Lite (USA), Snow (China), Victoria Bitter (Australia), and Tyskie (Poland).
Plzeň