The global recognition of the Pilsner Urquell bottle
21.5.2014
Pilsner Urquell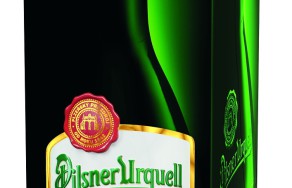 Plzeňský Prazdroj was the recipient of a prestigious award from the 2014 Worldstar Packaging Awards* held in Düsseldorf last week for its bottle design of the 1l Pilsner Urquell. This marks the second time that this unique bottle has garnered award-winning recognition for limited-edition packaging after capturing first prise of the Design Touch 2013 competition for Packaging of the Year in November 2013. This particular entry is set to be made available again on Father's Day 2014 with specially-themed packaging.
The idea for this very special 1l bottle of Pilsner Urquell, with its design known world-wide, was born during the celebrations for the 170th anniversary of the brewing of Pilsner Urquell beer's first batch. Glass-makers of the Vetropack Moravia Glass Company created it based on the artistic design of the renowned designer Lars Kemper.
"If you would like to own this unique and elegant bottle, it will be made available in June when Pilsner Urquell releases this limited edition to celebrate Father's Day. It is an ideal present for all fathers," added Lukáš Novotný, senior Pilsner Urquell Brand Manager. Bottles in various variations also appear on the market for different occasions such as Christmas or as will be seen during the upcoming Father's Day.
More information at: www.pilsner-urquell.cz.
* The competition is organised by World Packaging Organisation (WPO) and in 2013, more than 316 packaging designs from 33 countries competed. Worldstar Packaging Awards are awarded only to those design solutions that have already won local, regional or national competitions.

Plzeňský Prazdroj press contact Kateřina Krásová is available to media at:
Mobile: +420 724 617 219
Email:

Notes for editors:
With its total sale of nearly 9.7 million of hectoliters during the calendar year of 2013 (including licensed productions abroad) and with its export to more than 50 countries worldwide, Plzeňský Prazdroj Inc. is the preeminent beer producer in the region and the biggest exporter of the Czech beer.
Plzeňský Prazdroj Inc. is the member of SABMiller plc. group. Pilsner Urquell is the international flagship brand of the SABMiller brand portfolio.
SABMiller plc is one of the most significant world beer companies with 70 thousand employees in 75 countries around the world. It offers more than 200 beer brands including the world renowned brand such as Pilsner Urquell, Peroni Nastro Azzurro, Miller Genuine Draft a Grolsch, as well as important local brands such as Aguila (Columbia), Castle (South Africa), Miller Lite (USA), Snow (China), Victoria Bitter (Australia), and Tyskie (Poland).

Contact:
Kateřina Krásová
Plzeňský Prazdroj
+420 724 617 219
Plzeň