Kozel celebrates its 140th anniversary and collects one award after another
29.5.2014
Velkopopovický kozel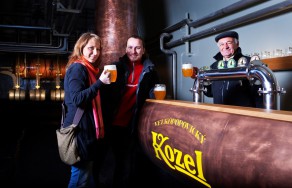 Velké Popovice brewery celebrates its 140thanniversary this year. Nearly a month before the main festival – Day of Kozel – Velkopopovický Kozel brought home two medals from the prestigious competition, Australian International Beer Awards.
The expert jury awarded Velkopopovický Kozel 11˚ a silver medal, and Velkopopovický Kozel Dark a bronze medal. Velkopopovický Kozel succeeded in the categories of pilsners and dark beers.
The international competition, Australian International Beer Awards, has taken place in Melbourne since 1993 and is considered the most prestigious competition in the world. It is organised by the Royal Agricultural Association. 294 breweries from all around the world took part in the tasting contest this year.
In its anniversary year, beers from Velké Popovice succeeded in other competitions as well. In March, Velkopopovický Kozel 11° became the absolute winner and was awarded champion, the beer of the year 2014 title, at the Golden Cup Pivex. In April, it won the silver medal at the World Beer Cup event in the USA.
Notes for editors:
Velké Popovice brewery celebrates its 2140th anniversary this year. The history of the brewery started on May 10, 1874 when the buildings of the brewery and of the malt house in Velké Popovice were officially approved. The first batch was brewed in Velké Popovice brewery on December 15, 1874. Just a year later, 18,000 hl of beer was brewed and sold there. Only few additional years after that, the brewery was the third biggest in the country. The brewery is known especially for its dark, strong beers. Velké Popovice brewery is a part of Plzeňský Prazdroj Comp.
To commemorate its 140th anniversary, Velkopopovický Kozel introduced to the market the limited edition of six bottles with the retro labels. Those will be available for purchase in stores until the end of June. For the Day of Kozel, taking place on Saturday, June 14, brewery intends to invite 140 people named either Kozel or Kozlová so they can together toast with the master brewer of the brewery.
With its total sale of nearly 9.7 million of hectoliters during the calendar year of 2013 (including licensed productions abroad) and with its export to more than 50 countries worldwide, Plzeňský Prazdroj Inc. is the preeminent beer producer in the region and the biggest exporter of the Czech beer.
Plzeňský Prazdroj Inc. is the member of SABMiller plc. group. Pilsner Urquell is the international flagship brand of the SABMiller brand portfolio.
SABMiller plc is one of the most significant world beer companies with 70 thousand employees in 75 countries around the world. It offers more than 200 beer brands including the world renowned brand such as Pilsner Urquell, Peroni Nastro Azzurro, Miller Genuine Draft (draught) a Grolsch, as well as important local brands such as Aguila (Columbia), Castle (South Africa), Miller Lite (USA), Snow (China), Victoria Bitter (Australia), and Tyskie (Poland).

Contact:
Kateřina Krásová
Plzeňský Prazdroj
+420 724 617 219

Velkopopovický Kozel in social media:
Facebook: https://www.facebook.com/KozelCZ
Youtube: https://www.youtube.com/user/KozelCZE

Plzeňský Prazdroj in social media:
Twitter https://twitter.com/Prazdroj1
LinkedIN https://www.linkedin.com/company/plzensky-prazdroj
Youtube http://www.youtube.com/user/PlzenskyPrazdroj1
Praha