Cool Summer with cool beer – popular event comes to Nošovice
11.6.2014
Radegast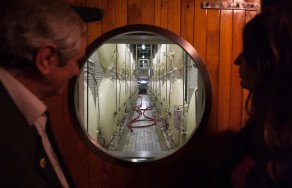 Bitter beer, strength contests, a "Moravia-Silesia region" food-tasting showcase, a beer academy and a special cookbook all highlight Cool Summer, which begins at 2 p.m. on Saturday, June 14 at Radegast Brewery in Nošovice and is free of charge. The event is set against the picturesque north Moravia region, which also features the Techno Trail during the main tourist-season.
The "bitter beer" theme is thrust to the forefront of Cool Summer at Radegast Brewery. Visitors can see how it is made during special brewery tours in Nošovice, which are available for a reduced fee during the Cool Summer event."We will offer a chance to experience a complete tour, including tasting, in the view-tower above the brewery or an abbreviated version without the tasting," said Director of the Radegast Visitors' Centre Martina Sikorová.
The Jakuba Šrubař Beer Academy will also welcome curious students during Cool Summer where they will learn both how to brew beer and how to best enjoy its strong bitter taste. Men will have a chance to measure their strength during a tetrathlon aptly named "All on One". 
Michal Tučný Revival Band and Czech rock-legend Roman Dragoun will headline the main stage. Acrobats will also perform during the event.
The entrance to Cool Summer is free of charge and runs from 2 p.m. until 6 p.m.

Notes for editors
Radegast Brewery has been brewing beer since 1970 and rose to popularity due to its characteristic bitterness. Today, The Radegast Brewery is a part of the Plzeňský Prazdroj Company.
With total sales of nearly 9.7 million of hectolitres during the 2013 calendar year (including licensed productions abroad) and with its export to more than 50 countries worldwide, Plzeňský Prazdroj Inc. is the preeminent beer producer in the region and the biggest exporter of the Czech beer.
Plzeňský Prazdroj Inc. is the member of SABMiller PLC. group. Pilsner Urquell is the international flagship brand of the SABMiller brand portfolio.
SABMiller PLC. is one of the most significant world beer companies with 70 thousand employees in 75 countries around the world. It offers more than 200 beer brands including the world renowned brand such as Pilsner Urquell, Peroni Nastro Azzurro, Miller Genuine Draft a Grolsch, as well as important local brands such as Aguila (Columbia), Castle (South Africa), Miller Lite (USA), Snow (China), Victoria Bitter (Australia), and Tyskie (Poland).

Contact:
Kateřina Krásová
Plzeňský Prazdroj
724 617 219

Plzeňský Prazdroj in social media:
Twitter https://twitter.com/Prazdroj1
LinkedIN https://www.linkedin.com/company/plzensky-prazdroj
Youtube http://www.youtube.com/user/PlzenskyPrazdroj1
Nošovice