Alexej Bechtin is back to Plzensky Prazdroj
11.6.2007
Uncategorized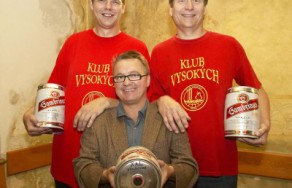 After one year mission of Corporate Communications Manager at sister company Pivovary Topvar in Slovakia, Alexej Bechtin is coming back to his previous position of spokesperson to leading Czech brewery company Plzeňský Prazdroj.
In July 2006, Alexej Bechtin moved within the SABMiller group to Slovakia, where he contributed to exciting and challenging integration project to integrate two Slovak breweries Saris and Topvar into one company within the frame of the second largest global brewing company. Bechtin's main task was to implement high standards of common corporate identity as well as internal communication roll-out within a changing company, as it has been for several years in the Czech Republic in Plzensky Prazdroj with breweries in Pilsen, Nosovice (Radegast) and Velke Popovice.
SABMiller has been operating in Slovakia since 1997 when it entered the Saris brewery as a strategic investor. In 2006 the SABMiller acquired the Topvar brewery. Since January 2007, both Topvar and Saris have been integrated into Pivovary Topvar company.
At the Corporate affairs and communication department of Plzensky Prazdroj, Alexej Bechtin will be in charge of external communication, media relations and corporate website www.prazdroj.cz.
Alexej Bechtin (45) joined Plzensky Prazdroj in 2002. Earlier, he worked at communication department of Philip Morris CR, as a Media Consultant with Interel PR agency as well as journalist, interpreter and translator. He graduated from the Faculty of Journalism at Charles University, and the Faculty of Journalism at Moscow State University. Alexej Bechtin is married, has one daughter; he speaks English, Russian, Slovak and Spanish. He is interested in classical literature, history and alpine tourism.
Contact:
Alexej Bechtin
spokesman
724 617 219
x x x
With its overall sales exceeding 10.7 million hectoliters in the calendar year of 2006 and with exports to more than 50 countries of the whole world Plzeňský Prazdroj, a. s. is a major beer producer in the region and the largest export of the Czech beer.
Plzeňský Prazdroj, a. s., is a member of the SABMiller plc global group. Pilsner Urquell is the international flagship of the SABMiller brand portfolio.
SABMiller plc is one of the world's largest brewers with brewing interests or distribution agreements in over 60 countries across five continents. The group's brands include premium international beers such as Miller Genuine Draft, Peroni Nastro Azzurro and Pilsner Urquell, as well as an exceptional range of market leading local brands. SABMiller plc is listed on the London and Johannesburg stock exchanges.
Pilsen