Velkopopovicky kozel is the most successful Czech beer abroad, annual sales* totalled 2.5 million hectolitres
23.8.2007
Velkopopovický kozel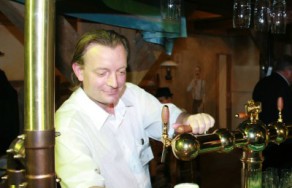 Thanks to sabmiller's support Velkopopovicky kozel is becoming a regional european brand
Leveraging the global scale of SABMiller helps Velkopopovicky Kozel to become a European brand. Kozel is now the fourth largest SABMiller brand in Europe, with a compound annual growth rate of over 27% in the last five years. This data brings the 2007 SABMiller Annual Report*.
Velkopopovicky Kozel is sold at 25 markets in Europe and beyond. Total volumes last year were up 17% to 2.5 million hectolitres*. However, the largest amount of sales is recorded in countries with local (licensed) production as Slovakia, Hungary and Russia. Licensed production increased year-on-year* by 23%, exceeding in Russia alone 1 million hectolitres.
"The case of Kozel shows the group's ability to take a brand that is doing well in one market and move it across borders to enhance the portfolio in other markets. Kozel is now being managed on a regional scale – another indication of greater cohesiveness and collaboration across SABMiller's European markets," adds SABMiller Annual Report.
Kozel's growth is supported by several marketing and trade marketing activities. Major market with local production is Russia, while major export market is Finland.
In Russia, Kozel represents the largest Czech beer brand, building its marketing communication on Czech beer tradition and profound beer culture. The recent campaign presents Velke Popovice village, and the brewery – the birthplace of Velkopopovicky Kozel brand.
In co-operation with Kozel distributor in Finland the brand's activities are focused on off-trade segment, representing the only market where Kozel Dark is sold in cans: 4pack variant is the most successful. In on-trade a special Kozel cooking book based on traditional Czech cuisine is distributed, in co-operation with pub operating companies.
*Financial year ending 31.3.2007
Velkopopovicky Kozel internationally – facts and figures:
Available in 25 countries world-wide; across Central and Eastern Europe, the brand is now marketed and sold in 13 countries
The most distant export destinations are Australia, Canada and Honduras
Major export goes to Finland: over 28,000 hectolitres sold in F07, making Kozel the largest imported brand in the country, with dark beer as the most popular variant
Russia is the largest market in terms of annual sales volumes (over 1 mil. hl).
Contact:
Alexej Bechtin
Spokesperson
+420 724 617 219
x x x
Velkopopovicky Kozel is a distinguished brand with a long tradition of brewing It belongs to the most dynamic brands both at the Czech market and abroad. Moreover Velkopopovicky Kozel Dark is the leader of the dark beer market in the CR. Established in 1874, the Velke Popovice brewery belongs to traditional Czech enterprises. Since 2000 it is a part of Plzensky Prazdroj, Czech subsidiary of SABMiller.
With total sales of more than 10.7 million hectolitres in the calendar year 2006 (including licensed production abroad) and exports to more than 50 countries throughout the world, Plzensky Prazdroj, a. s., is the leading beer producer in the region and the largest exporter of Czech beer
Plzensky Prazdroj, a. s., is a member of the global group SABMiller plc. Pilsner Urquell is the international flagship of the portfolio of SABMiller brands Plzensky Prazdroj, a. s.
SABMiller, plc, is one of the world's largest brewers with brewing interests or distribution agreements in over 60 countries across six continents. The SABMiller brand portfolio consists of international brands such as Miller Genuine Draft, Peroni Nastro Azzurro and Pilsner Urquell, as well as of almost 200 other successful regional and national brands. Outside the U.S., SABMiller is one of the world's largest producers and distributors of Coca-Cola products. In the financial year ending on 31 March 2007 the Company showed revenues of USD 18.620bn, and pre-tax profits in the amount of USD 3.591bn.
Prague