Pilsner Urquell sales grow in Spain by 70 percent
8.7.2008
Pilsner Urquell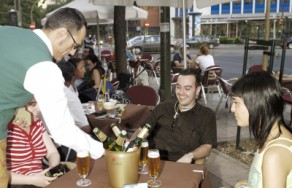 Most Pilsner beer drunk in Madrid and Barcelona

In the last 12 months, the sales of Pilsner Urquell in Spain grew by 70% from 7 thousand hl and reached a volume exceeding 12,000 hectolitres. This growth was achieved despite the fact that the Spanish beer market was stagnating last year. Pilsner Urquell is considered a premium lager in Spain, its price being by 10 to 15% higher in comparison with competing imported beers and by 50 to 100% higher compared to domestic beers.
Last year, apart from sales, there was also an expansion in distribution, thus an increase in the number of places where you can buy Pilsner Urquell. The Pilsner lager can be found in more than 750 shops and 1,650 restaurants, in 150 of them you can get this lager draught. The biggest restaurants sell more than 400 hl of Pilsner Urquell each year. More than 30% of sales take place in and around Madrid, number two is Barcelona.
"On the Spanish market, the Pilsner Urquell brand stands for a high premium brand, and that is why we have focussed many activities on cooperation with high-quality restaurants and mainly on expanding the distribution of this beer in Spain. We are glad that today you can buy it at almost 2,500 places," says Christopher Shewan, manager of Plzensky Prazdroj branch in Spain.
The best known Spanish restaurants offering Pilsner Urquell beer:
El Botanico, next to the Prado Museum, Madrid
El Abac Restaurant, Barcelona (awarded two Michelin stars)
Pinocchio in La Boqueria, Barcelona
Contakt:
Jiri Marecek
Spokesperson
+420 724 617 219
x x x
With total sales of over 10.9 million hectolitres in the calendar year 2007 and exports to more than 55 countries around the world, Plzensky Prazdroj, a. s., is a major beer producer in the region and the largest exporter of Czech beer. The major brands in the Czech Republic include Pilsner Urquell, Gambrinus, Radegast, Velkopopovický Kozel and the non-alcoholic brand Radegast Birell.
The beer is brewed in three breweries in the Czech Republic – in the Pilsen brewers, the Radegast brewery and the Velké Popovice brewery.
The Plzeňský Prazdroj, a.s. company is fully aware of its responsibility towards the environment and has adopted a policy of environmental protection as one of its business principles. This involves above all the care of water sources, wastewater treatment, minimization of its carbon footprint, recycling, energy conservation and increased transport efficiency.
Plzensky Prazdroj, a. s. is a member of the global group SABMiller plc., the world's second largest brewer, with brewing interests or distribution agreements in over 60 countries across six continents. Pilsner Urquell is the international flagship of the SABMiller brand portfolio.
Prague