Radegast express to run across moravia
10.12.2008
Radegast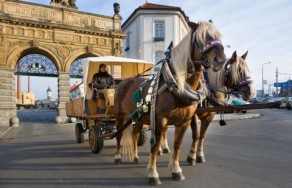 The R732 Radegast express departs for the first time from Bohumín to Brno on Sunday at 8:17. Another train with the same name designated R733 is going to set out in the opposite direction at 7:02 from Brno main station. Radegast express trains will run in the same manner every day.
Radegast beer will thus join the list of important symbols or personalities with their own trains. Trains named Hradčany, Emil Zátopek or Odra already run on Czech corridors. Selecting a route for the Radegast express wasn't difficult at all, according to the brand manager of the Nošovice brand Pavel Kmínek: "Radegast is a powerful Moravian symbol. The route for trains bearing its name thus logically goes through Moravian region."
Passengers of the fist Sunday Radegast train from Ostrava to Brno are going to receive a free can of Radegast beer as a welcome drink.
Notes for editors:

With total sales of more than 10.9 million hectoliters in the year 2007 and with exports to more than 55 countries worldwide, Plzeňský Prazdroj, a. s., is the leading beer producer in Czechia and the largest exporter of Czech beer. Plzeňský Prazdroj's main brands in the Czech Republic are Pilsner Urquell, Gambrinus, Radegast, Velkopopovický Kozel and nonalcoholic Radegast Birell.
Plzeňský Prazdroj produces beer in three breweries in the Czech Republic – in Plzeň brewery, Radegast brewery and Velké Popovice brewery. There are 13 commercial distribution centers ensuring supply in respective regions of the republic.
The Plzeňský Prazdroj company fully understands its responsibility towards environment and has accepted the policy of environment protection as one of its business principles. It engages especially in care for water resources, industrial waters cleaning, minimization of CO2 and other emissions, recycling, energy savings and increasing efficiency of transport.
Plzeňský Prazdroj, a. s., is a member of SABMiller plc, the second largest global brewing company worldwide with brewing interests or distribution agreements in over 60 countries across six continents. Pilsner Urquell is the international flagship of the portfolio of SABMiller brands.
Contact:
Jiří Mareček
Manager external communication
+420 724 617 219
Nošovice