Beer trains continue to transport beer to Sweden, other trains head for Greece
8.4.2009
Uncategorized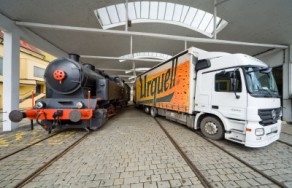 The beer trains transported to Sweden 15,297hl of pilsner beer in 12 months. A total of 50 railway carriages left West Bohemia with Gambrinus beer in 0.50l bottles and Pilsner Urquell beer in 0.50l cans and 0.33l bottles on board. All these shipments headed for the tranship centre in Orebro, Sweden.
In 2008, Plzensky Prazdroj exported a total of 33,500hl Pilsner Urquell, Gambrinus and Velkopopovický Kozel beer to Sweden. The transportation of this volume of beer equals having 246 trucks on the road driving a total of 340,000km. As a result of introducing the beer trains, half the truck trips were saved and the number of kilometres dropped by 50%.
"Rail transport of export beer to Sweden has proved successful for Prazdroj so we will carry on with this initiative. We also use this type of transport for shipments from Italy to Sweden, Holland and Belgium, and for shipments from Holland to Sweden.
This results not only in savings in transport costs but also in the fact that our company is more environmentally-friendly in its business activities. Our plan for this year is to try to export beer by rail to Greece, where the sales volume of our beer reached almost 7,000hl last year", says Ludek Hraba, PPAS Export Customer Service Manager.
Pilsner beer, and the Pilsner Urquell brand in particular, has a very good reputation in Sweden, and sales of Plzensky Prazdroj brands have increased by 24% over the last three years. Keg PU beer is served in about 80 restaurants there, and the quality of beer tapping and beer treatment is excellent: Sweden was the winning country in the 2005 European Quality League, which is a competition organised by Plzensky Prazdroj for foreign restaurants that have Pilsner Urquell beer on tap, and ever since, this country has placed at the top. In addition to that, Swedish bartender Alexander Bäckman came third in the world finals of the international bartender contest "Pilsner Urquell Master Bartender".
Notes for editors:

With total sales of over 10.7 million hectolitres in the calendar year 2008 (including licensed production abroad) and exports to more than 50 countries around the world, Plzensky Prazdroj, a. s., is a major beer producer in the region and the largest exporter of Czech beer.
Plzensky Prazdroj, a. s. is a member of the global group SABMiller plc. Pilsner Urquell is the international flagship of the SABMiller brand portfolio.
SABMiller plc is one of the world's largest brewers, with brewing interests or distribution agreements in over 60 countries across six continents. The SABMiller brand portfolio consists of international brands such as Miller Genuine Draft, Peroni Nastro Azzurro and Pilsner Urquell, as well as almost another 200 successful regional and national brands. Outside the USA, SABMIller is also one of the world´s largest distributors of Coca-Cola products.
Contact
Jiri Marecek
Manager external communication
Tel.: +420 724 617 219
Pilsen