Radegast brewery opens its gates this friday
27.4.2009
Radegast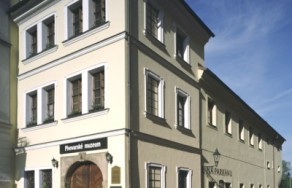 The gates of Nosovice brewery open on Friday morning at 8 o'clock. The time between tours will be livened up by master barrel makers from Plzeň, who will organize competitions in unloading and barrel rolling. The Ostravička ensemble will perform folk dances.
However the main attraction is the unique Radegast excursion tour. "Unlike many Czech and European breweries, we don't show a secluded visitor center to those interested in beer, but the actual brewing," Radegast brewery manager Ivo Kaňák describes the tour and adds: "The icing on the cake is certainly the tour ending in the degustation hall in the tower with a wonderful view of Beskids panorama and a cold Radegast in your hand."
The tour groups will start every 30 minutes with the last one at 16:00. Due to traditionally big interest in the tours, the organizers recommend to make a reservation for the tour in advance. Further information can be found on www.radegast.cz. The brewery is served by scheduled buses. These depart from Frýdek-Místek in an interval of about 45 minutes.
Notes for editors:

With total sales of more than 10.7 million hectoliters in the year 2008 and with exports to more than 50 countries worldwide, Plzeňský Prazdroj, a. s., is the leading beer producer in Czechia and the largest exporter of Czech beer. Plzeňský Prazdroj's main brands in the Czech Republic are Pilsner Urquell, Gambrinus, Radegast, Velkopopovický Kozel and non-alcoholic Radegast Birell.
Plzeňský Prazdroj produces beer in three breweries in the Czech Republic – in Plzeň brewery, Radegast brewery and Velké Popovice brewery. There are 13 commercial distribution centers ensuring supply in respective regions of the republic.
The Plzeňský Prazdroj company fully understands its responsibility towards the environment and has accepted the policy of environmental protection as one of its business principles. It engages especially in care of water resources, industrial waters cleaning, minimization of CO2 and other emissions, recycling, energy savings and increasing efficiency of transport.
Plzeňský Prazdroj, a. s., is a member of SABMiller plc, the second largest global brewing company worldwide with brewing interests or distribution agreements in over 60 countries across six continents. Pilsner Urquell is the international flagship of the portfolio of SABMiller brands.
Contact:
Jiří Mareček
Manager external communication
+420 724 617 219
Nosovice